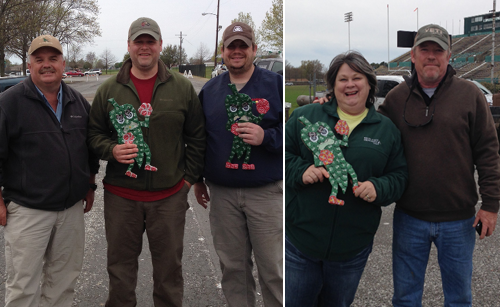 As part of the inaugural Go Green Weekend, a cook team competition was held supported by the Alumni Association. With ten teams competing, the event had a successful first run. Teams competed in the sausage any way and jambalaya any way categories.
Craig Verhage was part of the Go Green Weekend planning committee and coordinated this year's competition.
"The first annual Go Green cooking competition was a hit with both local cooks, the prospective students and alumni," said Verhage. "I heard from the teams that cooked in this year's inaugural Go Green Weekend that they 'loved the laidback atmosphere, and the cooking categories were quick and easy to prepare.' All the teams pledged to return next year and tell everyone how much fun they had, so I expect the competition to fill up."
The Bottoms Up Smokers took home the first prize for sausage any way and the Overall Grand Champion. Swine Before Pearls won first place in the jambalaya category. The prizes were provided by Kossman's Inc, Shelter Insurance-Craig Verhage, and Lampard's. Polk's Meats, a Corporate Sponsor of the National Alumni Association, provided the sausage and pork chops to the cook teams, and Aguzzi Farms provided the rice for the jambalaya.
Teams were encouraged to cook extra jambalaya to serve to the prospective students who were visiting for Go Green Weekend.
To stay up to date on the Alumni Association's activities, follow these social media sites: Facebook (Statesmen Graduates), Twitter (@DSU_Alumni), Tumblr (www.dsualumni.tumblr.com), LinkedIn (DSU alumni), Instagram (dsualumni) and You Tube (dsualumni1). Save the dates for Pig Pickin' (September 27) and Homecoming (November 15).