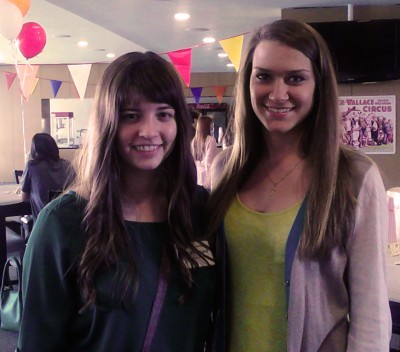 Students in Delta State University's Honors Program recently traveled to Hattiesburg to attend the annual Mississippi Honors Conference held on March 21-22 at the University of Southern Mississippi. Honors Program Director Dr. Leslie Fadiga-Stewart attended with two honors students.
Anna Kate Bodin, an Elementary Education major from Biloxi, presented a poster, The Evolution of Down Syndrome, which outlined the historical treatment of people with Down Syndrome. Bodin's presentation drew lots of interest from the conference participants and demonstrated how people with this genetic condition are more accepted in our society. She also underscored the importance of special education and programs on the Gulf Coast which have played an important role in helping these members to thrive in their community.
Jessica Faith Wishard, a Music Industry Studies major from Monticello, Ark.,won first place for her presentation, The DMI: a Delta Treasure. She discussed the role of the Delta Music Institute (DMI) and highlighted the Grammy Museum scheduled to open in 2015. Wishard pointed out the numerous opportunities for Delta State University students to express their creativity, to participate in engaging programs such as GrammyU and to meet different recording artists. She also showed how outreach programs such as the DMI Mobile Lab are helping communities to appreciate the rich cultural and musical heritage of the Mississippi Delta.
This is the second year that Delta State students have attended the Mississippi Honors Conference. Mason Shelton, a Biology major from Grenada, won first place for his poster presentation, No Voice: the Oppression of Women and Children Worldwide, at the inaugural conference hosted by Mississippi State University in 2013.
This year's conference began with a welcome program for the student presenters and continued with student poster and oral presentations, a panel on graduate school and an awards ceremony at the close. The 2014 conference included presentations by honor students from around the state.
The Mississippi Honors Conference grew out of the efforts of honors program directors and deans to create the Mississippi Honors Council in 2012. The mission of the Mississippi Honors Council is to connect students, faculty and administrators in an effort to improve honors institutions and programs across the state. Honor students from the College of Business, Education, Arts and Sciences and the School of Nursing are encouraged to participate in the next conference that will be hosted by Mississippi University for Women in 2015.