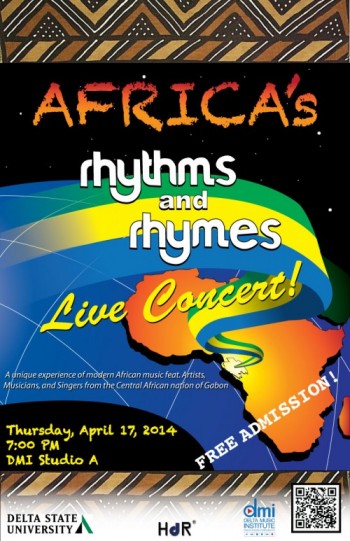 Senior music industry studies major Hyacine do REGO presents "Africa's Rhythms & Rhymes" concert April 17 at 7 p.m. in Delta Music Institute's Studio A on the campus of Delta State.
The free concert will feature a talented group of 11 artists, musicians, singers, technicians, journalists and concert promoters from do REGO's home country of Gabon, located in Central Africa. The event will display contemporary African culture through music, and will also bring an authentic and modern African worship experience to the Delta.
"Since coming to Mississippi in the spring of 2012 and seeing how things are, I have nourished the desire to have a music and worship experience so unique and powerful that it will resound and touch the hearts of many — because I also understand some of the problems facing the Mississippi Delta," said do REGO. "The best way to do so, in my understanding, was to organize an African concert, with the help of talented musicians and singers that I know from Gabon.
"I want to bring to life in the Delta both the unique musical flavor and the deep spirituality we have."
The event fulfills do REGO's senior project requirement for the music industry studies degree. This unique venture came together through collaborations across Delta State's campus. DMI students will run live sound and record the concert; College of Business students will direct the marketing campaign; photography students will document the concert; and the DSU Community Drumming & Dance Experience from the Department of Music will perform alongside the African group during the concert.
Tricia Walker, director of the DMI, is thrilled to see the partnerships come to life.
"The DMI is very proud of Hyacine," said Walker. "The scope of his project is impressive and his dedication to its success is inspiring. He has set the bar high for future senior projects at the DMI."
The Delta Music Institute is an independent center of study under the College of Arts and Sciences at Delta State University. The focus of the DMI music industry studies program is to provide students with a broad and thorough education in the technological, creative, and business areas of the music and entertainment industry.
To learn more, visit http://www.deltastate.edu/college-of-arts-and-sciences/dmi-delta-music-institute-homepage.