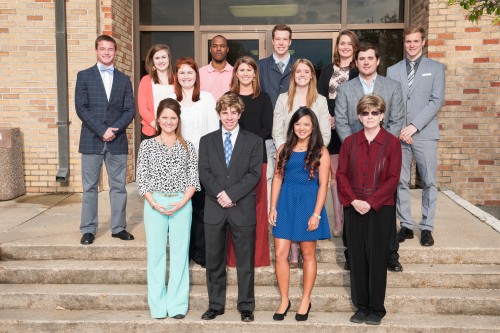 Delta State University's College of Business recently held its end of the year scholarship banquet in honor of outstanding academic achievement within the college. Faculty, staff, administration, students and family members gathered for dinner and a ceremony moderated by Billy Moore, dean of the College of Business, in the State Room of the H.L. Nowell Student Union.
Students receiving awards included: Haley Turner, Cleveland; Taylor Adams, Yazoo City; Angie Gresham, Cleveland; Samantha Phillips, Cleveland; Jeremy Hughes, Greenville; Katherine Holloway, Cleveland; Ethan Tyler Boatman, Eupora; Kenyatta Y. Brown, Cleveland; Otisa Davonne Lee, Clarksdale; Faderricka Harvey, Cleveland; Vlad Zinca, Cleveland; Jacob Elliot, Cleveland; Justin Hunsucker, Cleveland; Chrisa K. Doss, Cleveland; Ryan Smith, Cleveland; Fraser Pain, Cleveland; Chelsea Carter, Leland; Sarah Clark, Waynesboro; Ruthie Taylor, Grenada; Annalee Pierce, Cleveland; Kelly Hughes, Cleveland; Hidemi Mayershiro, Cleveland; Norri Bartolome, Greenville; Gregory Dalton, Louisville; Danielle Meerholz, Cleveland; Drew Daniel, Greenville; Louis Somlai, Cleveland; Jacob Creely, Tupelo; David James, Oxford; Garrison Morton, Laurel; Austin Jenkins, Philadelphia; Marcus Magee, Bay Springs; Garrett Gee, Indianola; Chance Beicker, Hernando; Jable Shelton, Brandon; Brady Osborne, Flora; Amirita Tipper, Cleveland; David Hector, Diamond Head; Laura Morgan, Blue Mountain; Jonathan Hildebrant, Hernando; and Aaron McCallum, Southaven.
Also recognized at the event were students of the College of Business Student Advisory Council (B-SAC). The B-SAC is a group of students who are selected by faculty based on character, scholarship and leadership. They work with Dean Moore to act as a liaison for the student body who major is in a business field. Members include: Taylor Adams, Yazoo City; Hidemi Mayershiro, Cleveland; Tyler Densford, Cleveland; Danielle Meerholz, Cleveland; Maxwell Anderson, Cleveland; Sydney Hodnett, Cleveland; Sydney Bright, Cleveland; Angela Palazzolo, St. Louis, Mo..; Jaime Luke, Greenville; Yvan Nys, Cleveland; Tobis Tombers, Cleveland; Brandy Osborne, Flora; Dexter Russell, Cleveland: and Haley Turner, Cleveland.
Another important function of this group is to nominate and select the AT&T Outstanding Faculty Teaching Award. The 2014 recipient was James Ohl Brown.
The mission of the College of Business is to prepare students for the marketplace by providing challenging educational opportunities. To learn more, visit http://www.deltastate.edu/college-of-business.