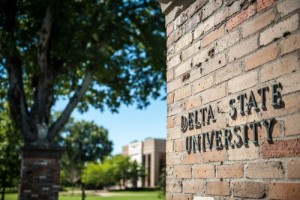 Delta State University's College of Arts and Sciences held its end of the year scholarship ceremony and coffee social April 16 in recognition of academic achievement. Faculty, staff, administration, students and family members gathered in the H.L. Nowell Student Union to honor those who stood out among the approximate 1,250 undergraduate majors and 100 graduate majors.
Paul Hankins, interim dean of the college, announced the scholarship recipients.
Those students recognized included: Katelyn Cheatham, Philadelphia; Cassie McLeod, Vicksburg; Chaneyce Cross, Tchula; Hannah Core, Gonzales, La.; Doris Parish, Glen Allen; Katie Holbrook, Greenville; JC Blockmon, Byhalia; Randall Moy, Greenville; Bonnie Beth Moore, Olive Branch; Danielle Olmi, Greenville; Faizan Tahir, Cleveland; Will Weeks, Boyle; Amanda Bishop, Cleveland; Damian Mercier, Hattiesburg; Jacob Mercier , Hattiesburg; Katie Penton, Olive Branch; Derek Hart, Oxford; Katie Locke, Vicksburg; Jacob Lifsey, Lexington, Tenn.; Horace Willis, Arcola; Laeitta Wade, Greenville; Keith Johnson, Glen Allen; Zachary Andrade, Olive Branch; Curtis Nunnery, Smithdale; Hyacine Do Rego, Cleveland; Harrison Downs, Huntsville, Ala.; Rebecca Basket, Greenville; Jesse Cooper, Cleveland; Melanie Tombers, Duesseldorf, Germany; Stephanie Messer, Grenada; Destiny Keys, Indianola; Calli Musselwhite, Hernando; Jess Bennett, Clinton; Casey Green, Olive Branch; Kevin Tharp, Cleveland; Jessica Woods, Scott; Trevor Spivey, Itta Bena; Roger Tollison, Water Valley; Shaqaydra Daniel, Greenwood; Michael Fair, Mound Bayou; Megan Mayfield, Port Saint Lucie, Fla.; Ian Campbell, Cleveland; Elisabetta Zengaro, Cleveland; Jennifer Duke, Florence; Rory Young II,  Corinth; Sara Crider, Purvis; Joshua Rushing, Saucier; Christine Elizabeth Allmon, Southaven; Michael Hankins, Grenada; Basia Thomas, Memphis, Tenn.; Ira Barger, Isola; Shanice Mitchell, Cleveland; Katie Portner, Cleveland; Corey Galvin, Grenada; Erin Newman, Oswego, Ill.; Kayley Presby-Gaines, Inglewood, Calif.; Benjamin Jacob Lifsey, Lexington, Tenn.; Cassie Cummings, Grenada; Sheridan McClendon, Greenville; and Steven (Ryan) Fulgham, Cleveland.
The College of Arts and Sciences encompasses the departments of art, interdisciplinary studies, biological and physical sciences, interdisciplinary geospatial information technologies, Delta Music Institute, gender studies, languages and literature, mathematics, music, social sciences and history, social work, and speech and hearing sciences. Learn more at http://www.deltastate.edu/college-of-arts-and-sciences.