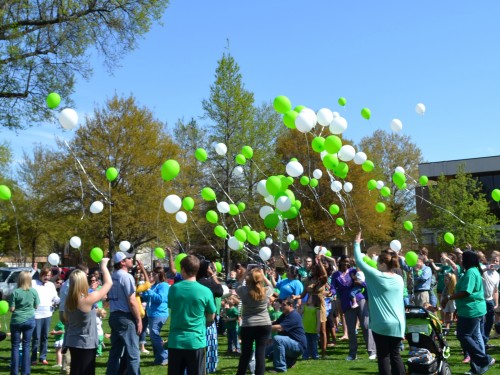 Delta State's Hamilton-White Child Development Center recently observed the Week of the Young Child sponsored by the National Association for the Education of Young Child (NAEYC). Last week, children enrolled in the center participated in activities on campus.
To kick off the celebration, children were asked to dress up to a different theme each day to recognize the special week. The children visited the Instructional Resource Center in the Roberts-LaForge Memorial Library to hear a book read by President William N. LaForge. A special luncheon was hosted by students in the Family and Consumer Sciences Child Development Studies program for teachers in the Center to honor their dedication the children.
The celebration concluded with a big balloon release on the Quadrangle. Children were joined by the football team, cheerleaders and the mascots to release green and white balloons for awareness.
According to the NAEYC website, the Week of the Young Child is the world's largest early childhood education association, with nearly 80,000 members and a network of over 300 local, state, and regional affiliates. The purpose of the week, which was established in 1971, is to focus public attention on the needs of young children and their families and to recognize the early childhood programs and services that meet those needs.
The Child Development Center recognizes the importance of providing opportunities to promote early learning during the earliest years of development.