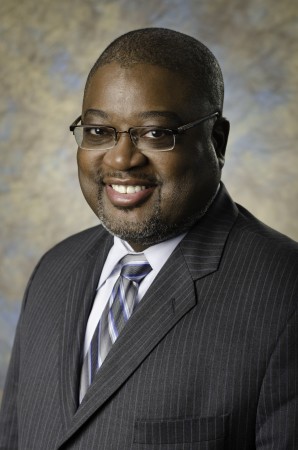 Delta State University welcomes a powerhouse alumnus as the keynote speaker for spring commencement May 10 at 10 a.m. in the Walter Sillers Coliseum.
William Bell '82, president and CEO of Casey Family Programs, promises words of inspiration as the highlight speaker at this year's ceremony. A native of Bolivar County, Bell graduated from Delta State with a bachelor's in biology and behavioral science.
Casey Family Programs, based in Seattle, is the nation's largest operating foundation focused entirely on foster care and improving the child welfare system. Founded in 1966, the organization works to provide and improve, and ultimately prevent the need for, foster care in the United States.
"It's exciting to be coming home and forming a connection to a brand new generation of graduates — a future crew of people who will continue the work that the graduates before them have started," said Bell. "Delta State has been very significant in my life. It means a great deal to me to be invited as the commencement speaker and it's an incredible honor."
Bell, who keynoted last month's International Business Symposium at Delta State, said he would share personal stories in his speech to encourage the institution's most recent graduates.
"I will share what I've learned from my life and what I would say to my sister or brother were they getting ready to take the same step these students are about to take," he said. "Hopefully some of what I've learned will make a difference for them."
Bell was honored as the university's 2012 Outstanding Alumnus of the Year, and has forever remained loyal to his alma mater. Many members of his family have also attended the institution.
"Delta State has been very significant in terms of an educational opportunity for my family," he said in a previous Delta State press release. "I'm grateful for the opportunity Delta State has given me as I try to not only nurture and support all vulnerable children and families in this country, but also my own family."
And the concept of family runs deep for Bell both personally and professionally.
"What I hear from the graduates of Delta State is one of the hallmarks is family orientation," he added. "There is a strong network of support for young people while they are in school and a network of support for young professionals once they leave school.
"It is vitally important that we never forget the connection that exists between us and other people. That's one of the things that stands out for me at Delta State."
Bell has over 30 years of experience in the human services field. Some of his positions prior to Casey include: commissioner of the New York City Administration for Children's Services (ACS); deputy commissioner of ACS's Division of Child Protection; deputy commissioner of field services and contract agency case management for the New York City Human Resources Administration; and associate executive director for Miracle Makers, a private sector minority-owned, not-for-profit child and family services organization in New York City.
Bell received his doctorate in social welfare and his masters of social work at Hunter College School of Social Work. He is a trustee for America's Promise Alliance, chair of the board of directors of the Association of Black Foundation Executives, and a member of the board of Grantmakers for Children, Youth & Families and United Way of King County.
Among his numerous awards, Bell was honored with The Robert F. Kennedy Children's Action Corps 2012 Embracing the Legacy Award for his endless work to prevent child abuse and neglect and build communities of hope for America's vulnerable children.  He was honored in 2010 by New York City's Court Appointed Special Advocates for his contributions and lifelong commitment to improving the lives of children in foster care.
For more information on Bell's tireless work at Casey Family Programs, visit http://www.casey.org.