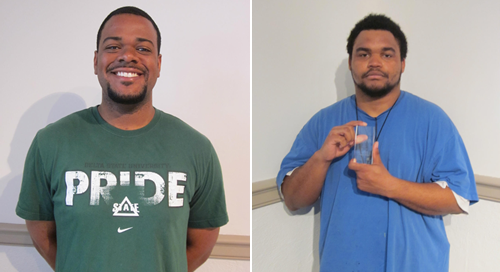 Two Delta State art students recently won top honors at a reception at the Mississippi Arts Center for the 2014 Mississippi Collegiate Art Competition. Charles Taylor, a painting major from Greenville, won the Best In Show award for his lithograph titled "Chimpagliacci," and Vincent Hayes, a crafts major from Clarksdale, won first place in the Fiber Arts category for his entry titled "Simple Pattern."
This year's competition was juried by Kathryn Jill Johnson who chose 124 pieces out of 767 entries for the 11 public and private universities and colleges in Mississippi.
Delta State's Art Department had 18 additional works of art selected for the competition. Winning art students included Rachel Byrd, John Campbell, Alyssa Guyer, Tori Jenkins, Allen Morris, Bianca Nolden, Kristen Price, Tori Shelby, Alejandra Torres, Chase Tubbs and Lawrence Yawn.
Chair the Art Department Ronald Koehler boasts the student talent.
"I am so proud of these students for having their pieces chosen for this exhibition," said Koehler. "The Mississippi Collegiate Art Competition showcases some of the best art that Mississippi art students are doing."
Students can earn a degree concentrating on art education, art history, crafts, graphic design, painting, photography/video and sculpture from Delta State. For more information on the Department of Art at Delta State, please call (662) 846-4720.