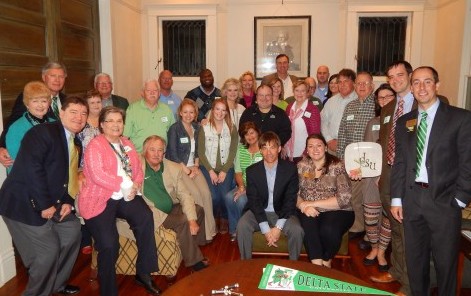 The Delta State University Alumni Association traveled to Tupelo recently for the Northeast Mississippi Alumni Chapter Meeting. This year's gathering was held at the office of Brad Prewitt '90 and was catered by BBQ by Jim out of Tupelo.
Featured guest President William N. LaForge provided an update on the university, and Jeffrey Farris, director of alumni affairs, spoke about upcoming alumni events/initiatives and the strategic action of the Alumni Association. Chief Developmental Officer Gary Bouse, Assistant Alumni Director Jordan Thomas, Admissions Recruiter Jeanna Wilkes and Director of Donor Relations Ann Giger were also in attendance.
Bob '62 and Sylvia '61 Ferguson, of the Tri State Educational Foundation, attended the meeting as well. The Fergusons have helped multiple students from Delta State with their education through scholarships.
Current leaders of the Northeast Chapter are Brad Prewitt '90, Joby Collins '87 and Brandi Patton '05. Mary Baxter '86 donated hand-made Delta State pottery for door prizes. To donate to the Northeast Mississippi Alumni Scholarship fund, visit www.deltastategiving.org. This fund designates scholarships to Delta State students from the area.
To stay up to date on the Alumni Association's activities, follow these social media sites: Facebook (Statesmen Graduates), Twitter (@DSU_Alumni), Tumblr (www.dsualumni.tumblr.com), LinkedIn (DSU alumni), Instagram (dsualumni) and You Tube (dsualumni1). Save the dates for Pig Pickin' (September 27) and Homecoming (November 15).