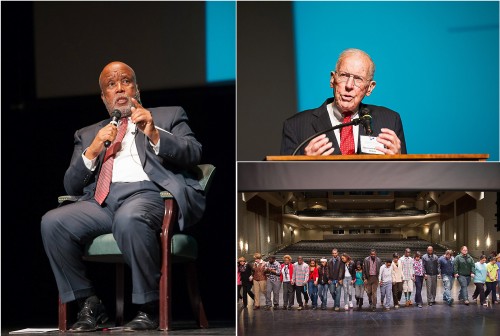 Delta State University, under the leadership of President William N. LaForge, continues to provide progressive opportunities for both campus and community. Most recently, the institution completed "Winning the Race: A Conference on Diversity and Community."
The two-day program on March 18-19 featured a number of prominent speakers, including former Mississippi Governor William Winter, Congressman Bennie Thompson and Civil Rights expert John Dittmer.
The conference placed special emphasis on student-level concerns, but also offered a wide selection of sessions for all attendees — including such topics as Civil Rights history, education, religion, healthcare and multi-cultural sensitivity.
LaForge pushed for the event from the moment he took office in 2013, and he was thrilled to see a dedicated commitment from everyone who brought it to fruition.
"We're very pleased with the speakers, the program and the format of the conference," said LaForge. "I can tell you that the feedback at this point is very, very positive. I'm thrilled with the outcome.
"Throughout the conference we had great resources and presenters that made this all possible. The power-packed trio of John Dittmer, Gov. William Winter and Congressman Bennie Thompson was really a great trifecta."
Student Government Association President Sydney Hodnett said the experience provided students with a unique and necessary platform for meaningful discussion.
"It was an opportunity for us to meet significant leaders who had an influence on the Civil Right movement and diversity in the Delta" said Hodnett. "Some of the panels and lectures taught students to get out of their comfort zones — which made us realize how important it is to discuss these critical topics."
The conference also developed a presence on social media. Twitter handle @paulbabba said, "We have to teach kids it's about the heart of the person. Not their differences." @deltastate #WinningTheRace.
@kmday95 said, "Yes thank you @deltastate for putting on such an awesome start to an engaging conference #proudstudent."
Panelist and local small business owner @suzettematthews quoted Congressmen Thompson, "'There's no substitute for talking to each other.' @BennieGThompson. Let's start bridging racial gaps in MS. @deltastate #diversity #equity."
LaForge added Winning the Race should become an annual tradition to highlight race relations in the Mississippi Delta.
"We think we have a solid foundation and platform to go ahead and continue this as a program," he said. "We will be doing the evaluation of this conference soon and we certainly hope to establish an annual event that perpetuates a very important dialogue at Delta State University and in the Delta."
For more information on participants and events from Winning the Race, visit http://www.deltastate.edu/president/winning-the-race/.