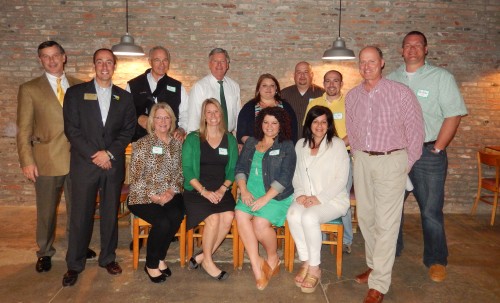 The Delta State University Alumni Association traveled to Yazoo City on March 24 for the South Delta Alumni Chapter Meeting. This year's gathering was held at the No Smoking Smoke House and was catered by Ubon's Barbecue.
"With a large number of alumni in the area, the South Delta Chapter has a great potential for growth," said Jeffrey Farris, director of alumni affairs.
Featured guest President William N. LaForge provided an update on the university. Farris spoke about upcoming alumni events and initiatives. Executive Director of the Alumni Foundation Keith Fulcher, Assistant Alumni Director Jordan Thomas, and Athletic Alumni President Chrissy Keller LaMastus were also in attendance.
The South Delta Chapter is comprised of Yazoo, Sharkey, Issaquena and Warren counties. Jamie Wallace '04 currently serves as the chapter's president, and Jody Perkins '00 is the vice president. To donate to the South Delta Alumni Scholarship fund, visit www.deltastategiving.org. This fund designates scholarships to Delta State students from the South Delta area.
To stay up to date on the Alumni Association's activities, follow these social media sites: Facebook (Statesmen Graduates), Twitter (@DSU_Alumni), Tumblr (www.dsualumni.tumblr.com), LinkedIn (DSU alumni), Instagram (dsualumni) and You Tube (dsualumni1). Save the dates for Pig Pickin' (September 27) and Homecoming (November 15).