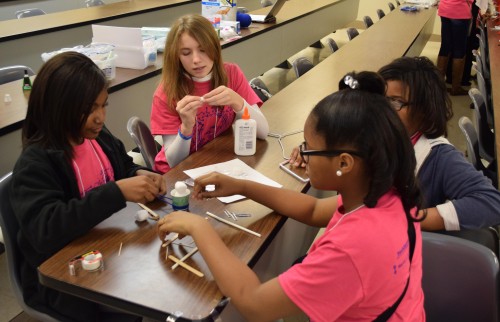 The Cleveland Branch of the American Association of University Women (AAUW) hosted its first annual Tech Savvy Conference for girls in grades 6-9 on March 1 at Delta State University. The conference focused on the topics of science, technology, engineering and mathematics.
In 2006, the AAUW branch in Buffalo, New York, along with former branch president Tamara Brown, launched the first Tech Savvy program. After recognizing the tremendous value this program offered to girls, the AAUW expanded the program to girls across the country through a Tech Savvy national pilot program on 10 campuses through 2014. Mississippi is the first of the pilot sites to launch their Tech Savvy Conference, and it was a campus-wide effort.
The day began with a welcome to campus from President William N. LaForge. The founder of Tech Savvy, Tamara Brown, conducted a workshop on behalf of the primary funding source of Tech Savvy, Praxair, Inc. The girls had 11 hands-on workshops to choose from that included everything from Finding Our Real Calling in Engineering, Super Hot Technologies, Rainbow Fingerprinting, NAIL'ing Math, Mapping Your Way Forward , Heartbeat of the Delta and more.
Tech Savvy is also an opportunity for the parents to gain information about directing their daughters' path while focusing on careers. They were able to hear from a panel of practitioners about the road they traveled to their careers. The panelists included Erica Balthrop, MD, scientist Meg Allen and Gwendolyn Meador, CPA, among others.
Jane-Ellen Miller of Ellucian Technologies gave the motivational address to provide words of encouragement to the girls to speak up and let their voices be heard. The keynote address was delivered by Dr. Loren Robinson, a pediatrician at the Robert Wood Johnson Clinical Scholars Program of the University of Pennsylvania.
Dr. Glendscene Williams, associate professor of finance at Delta State and president of the AAUW Cleveland Branch, was key in organizing the conference.
"It was very rewarding to witness the energy and excitement displayed by the young ladies as they engaged and successfully completed the different hands-on exercises," said Williams. "Their enthusiasm and ever-growing confidence made this a very satisfying experience.
"Delta State University views itself as a resource for the Mississippi Delta as the American Association of University Women does for the state of Mississippi. In these roles, it is our privilege to provide an arena in which our young ladies can be exposed to the opportunities and rewards available in science, technology, engineering and math careers."
For more information about the Cleveland Branch of the AAUW, please contact 662-846-4233.