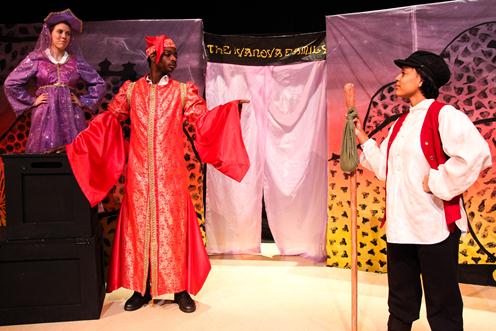 The Bologna Performing Arts Center will present a School-Time Matinee performance of "The Emperor's New Clothes," as part of the New Stage Theatre Arts-in-Education statewide touring program for elementary school groups and families on April 8 at 9:30 a.m.
Adapted by Kathryn Schultz Miller from the Hans Christian Andersen fairy tale, "The Emperor's New Clothes," is packed with action, laughs and magic tricks. Lots of fun is in store when Peter, the mischievous tailor, comes up with his sure-fire get-rich-quick scheme to embarrass the vain emperor and make off with a basket of gold! Peter uses all his wit and magic to convince the court he can make magic clothes. Only those who are very smart can see the clothes, he tells them.
Following the performance, the acting company and the students will have an open discussion about literature, themes of the play and the experience of acting. A study guide will also be available for teachers to use in their classrooms before and after the performance.
"The Emperor's New Clothes," is directed by Joshua Phillips and performed by New Stage's Professional Acting Company members Jamaar Blanchard, Catherine Mounger and Jasmine Rivera.
New Stage Theatre is a professional not-for-profit theatre. New Stage Theatre's Arts-in-Education tours are supported in part by Entergy, the Chisolm Foundation and the Mississippi Arts Commission.
Admission is free, but reservations are required. For more information, contact Whitney Cummins at 662-846-4844, or visit www.bolognapac.com to reserve seats for your family or school group.