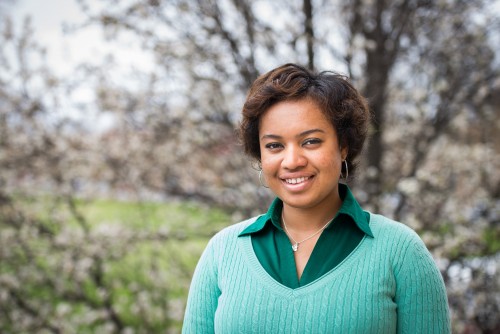 Delta State University recently named April Mondy, a 2011 and 2013 alumnus, as the campus web writer/designer with the office of Communications and Marketing.
"Delta State has been a second home to me and it is very dear to my heart." said Mondy. "I'm extremely excited and honored to give back to campus by doing what I love at the place I love."
Mondy will work as part of the Communications and Marketing team to create, improve and maintain an identifiable web presence, and brand the website and other media to aid in Delta State identity recognition and awareness. She will also work with departments campuswide to maintain web content.
Caitlyn Thompson, coordinator of Communications and Marketing, is thrilled to bring Mondy's knowledge to the office.
"Having April join our staff full-time has been a blessing," said Thompson. "She brings a fresh perspective to the team and is familiar with all the new trends and elements in web design. April's motivation and initiative are crucial to her role in our office, and her positive attitude makes her a joy to work with."
Mondy graduated summa cum laude from Delta State in 2011 with a bachelor's degree in computer information systems. Upon graduating, she returned to Delta State to receive a master's in business administration with concentrations in human resource management and information systems management.
She was also very involved on campus as a student. As a lover of music, she participated in the DSU marching band, symphonic band, steel band, percussion ensemble, flute ensemble, chorale and Delta Singers. She served as president of the Delta State chapter of the Association of Information Technology Professionals, vice president of the Business Student Advisory Council, a Delta Diplomat and the hall director of Brumby-Castle Residence Hall. Mondy is the member of five honor societies and was inducted into the Delta State University Student Hall of Fame in 2013.
Mondy is a passionate international traveler and enjoys blogging about her experiences. She has completed four trips to Europe to visit 11 countries including the Netherlands, Belgium, Germany, England, France, Spain, Luxembourg, Czech Republic, Italy, Austria and most recently, Ireland.
"My ultimate goal is to visit all seven continents," she said. "I have two down and five more to go."
From the time she was a child, Mondy has had extensive experience in radio broadcasting. For years, she has worked alongside her parents Elijah and Belinda Mondy, the current owners and operators of gospel radio stations KJIW-FM 94.5 in Helena, Ark., KCAT-AM 1340 in Pine Bluff, Ark., and WJIW-FM 104.7 in Greenville. Her radio career spans the positions of radio announcer, program director, producer, webmaster and sales associate.
Mondy has eight younger brothers and sisters and her parents reside in Helena.