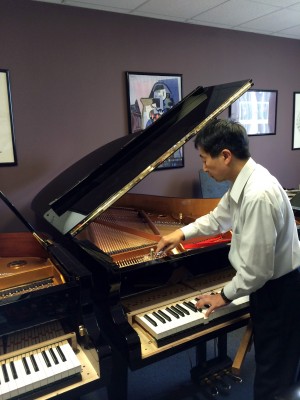 Master piano artisans Takanori (Terry) Otake and Yoshi Kusakabe worked on four new Shigeru Kawai grand pianos this week that were recently acquired by the Delta State University Department of Music. These very experienced craftsmen, who sign the inside of each piano they build by hand, are sent from the Kawai headquarters in Japan to venues with new Shigeru Kawai pianos within the first year after purchase to provide customized regulation and voicing — a painstaking process for quality pianos at this artist level.
In September of 2013, the university purchased 10 new Kawai pianos to replace several 30-to-50-year-old pianos that were not up to professional standards and lacked an artist quality for performance.
Beginning in the fall of 2010, Dr. Karen Fosheim, Dr. Kumiko Shimizu and Dr. Jung-Won Shin, piano faculty at Delta State, and Dr. Mark Butler, interim chair of the department surveyed and assessed the existing piano inventory owned by the department. With the help of consultants from Memphis, music companies and industry representatives, they quickly discovered the average age of the pianos was 34-years-old and most were confirmed to be in poor condition. This realization sparked a search for specific quality pianos and a quest for funding from both the university and interested contributors.
The piano faculty felt the best investment for the university would be through Kawai. Lane Music Company in Germantown, Tenn. worked with the department in 2012 on the purchase of a C2 Yamaha grand piano, funded by a generous gift from the estate of the late Mrs. Keith Dockery McLean.
Scott Lane, owner of Lane Music Company, generously delivered a SK VI Orchestra Grand in September of 2012 to the Bologna Performing Arts Center Recital Hall on a trial basis. A year-and-a-half later it found a permanent home. The seven-foot piano is the crown jewel of the music department's Kawai collection.
This purchase also included three SK III grand pianos for each piano studio, GX3 and RX2 grand pianos, three Kawai digital pianos for classrooms and one upright piano.
Several generous donations, including a recent notable gift from the Tri-State Educational Foundation in Iuka, enabled this venture to go forward. Delta State music alumna Sarah Ellington, a Tri-State board member, committed her annual Tri-State stipend to the Department of Music's piano fund for two years to honor the late Professor Nelle Wynn, a beloved and respected member of the music faculty at Delta State. Delta State appropriated the remaining funds with guidance from Dr. Paul Hankins, interim dean of the College of Arts and Sciences and professor of music.
The department continues to strive to be named a Kawai "EPIC" partner; a status that acknowledges that an institution has acquired a collection of 20 new Kawai pianos comprised of at least five Shigeru grand pianos and five other models of grands. When that level is reached, the Shigeru Endowment connected to Kawai will donate the 20th piano, a fourth Shigeru Kawai III with an institutional value of $40,000. This status would provide international media recognition for Delta State among other "EPIC" universities and music conservatories around the world.
The Department of Music is in need of interested supporters and alumni to help achieve this honor of "EPIC" status by giving to the piano fund at the Delta State University Foundation. The current and future Delta State piano majors and faculty will have access to performing on these instruments for several years to come as a result of the financial commitment shown by Delta State and its friends.
This level of quality is important to communicate in recruiting potential piano majors both in the U.S. and abroad. The department is in the initial stages of creating a relationship with piano teachers and students in the Republic of Korea through associate professor of music, Dr. Jung-Won Shin, who travels there annually to visit family and give master classes and recitals.
A public celebration of the new pianos and the gifts that made them a reality is being planned in conjunction with the department's annual honors recital and awards ceremony on April 24. The event begins at 7:30 p.m. at the BPAC and is followed by a reception in the Jeff Ross Capwell Lobby.
The public is cordially invited to hear the SKVI at this concert in collaboration with the top performer/scholars from among the music majors who have been selected by the music faculty by audition and have at least a 3.0 grade-point average in all music courses.
Interested donors may inquire about making a gift or a memorial to a loved one by contacting Mark Butler at 662-846-4615 or the Delta State University Foundation.