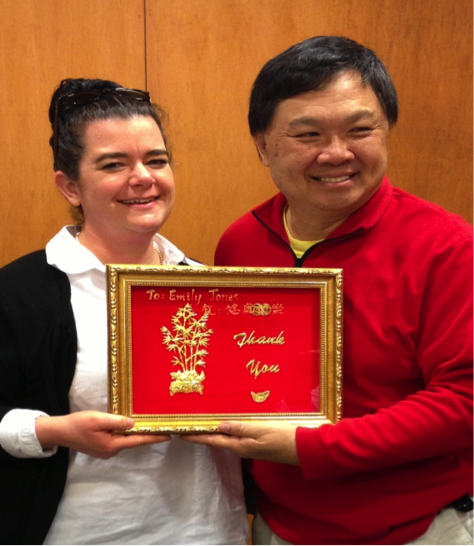 Delta State University Archivist Emily Jones recently received a plaque of appreciation for her work with the Mississippi Delta Chinese Heritage Museum (MDCHM).
Raymond Wong, MDCHM president, presented the award to Jones.
Jones played an integral part in the museum's development, which began in 2011, when Frieda Quon and Wong saw the need to preserve the legacy of Chinese immigrants in the Delta. The goal was to document the history and culture to be shared with this and future generations.
Jones, who serves as ex-officio, DSU with MDCHM, is responsible for accepting, cataloguing and providing secure access to any donations made to the Chinese project. She has created a permanent exhibit of many of the donated and loaned items on the third floor of the Charles W. Capps, Jr. Archives & Museum on Delta State's campus.
Her enthusiasm, creativity and support of the museum continue to develop with plans for future exhibit expansion.
"In this moment is the culmination of years of trust and friendship that I cherish," said Jones. "Since my first visit with Brother Ted Shepherd in 1999 where he shared with me his life's involvement with the Chinese community in Greenville, I had only a working knowledge of the Chinese community of the Mississippi Delta. 
"Over the past three years, the Mississippi Delta Chinese Heritage Museum board has opened up their homes and hearts to me, sharing and inviting me in. I am beyond honored to work with MDCHM and to be counted as one among this amazing group of friends and family. The future is promising for MDCHM, and I'm excited to see where we will go from here."
For more information on donating or loaning items, or becoming a MDCHM member/donor, contact Jones at ejones@deltastate.edu or Susan Chow, MDCHM treasurer at schow@deltastate.edu .
Learn more about the Chinese museum by visiting the Capps Archives at Delta State or online at http://www.deltastate.edu/academics/libraries/university-archives-museum/ms-delta-chinese-heritage/.