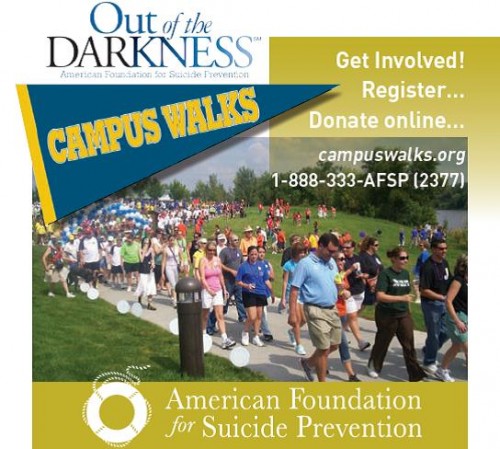 The Greek organizations of Delta State University will hold the Out of Darkness Walk on April 5 to raise funds for suicide prevention at the Delta State Fitness Trail. The event is in conjunction with a campaign by the American Foundation for Suicide Prevention.
Registration begins at noon and the walk starts at 1 pm. Pre-registration is also available online at www.campuswalks.org.
Walk volunteer and Mental Health Needs Coordinator Katrina Taylor said, "We want to make it aware all over campus and in our community that it is okay to reach out and get help for mental illnesses and depression — that suicide should not be an option. Suicide and depression can impact everyone in some kind of way, so this walk will be an opportunity for the campus and community to come together and fight against suicide by bringing it out of the darkness and into the light."
According to Taylor, suicide is the second-leading cause of death among college age students and the elderly. On average, someone commits suicide every 17 minutes.
For more information about the event, contact student coordinator Marisa Hall at 901-335-5682 or email deltastatecampuswalk2014@gmail.com.
For more details on suicide prevention at Delta State, visit http://www.deltastate.edu/student-affairs/suicide-prevention.