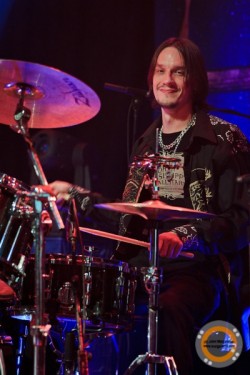 Cody Dickinson, member of the GRAMMY nominated North Mississippi All Stars, will be a guest on March 24 in Studio A for DMI All Access, a series of informal Q&A sessions featuring music and entertainment industry professionals. The program begins at 6 p.m. and is free and open to the public at the Delta Music Institute on the campus of Delta State.
Brothers Luther and Cody Dickinson soaked up the music of their father, Memphis legend Jim Dickinson, and absorbed the legacy of blues ancestors R.L. Burnside, Junior Kimbrough and Otha Turner before forming the North Mississippi All Stars in 1996.
The band's debut album in 2000, "Shake Hands With Shorty," earned them a GRAMMY nomination for Best Contemporary Blues Album. After earning two more GRAMMY nominations in the same category for "51 Phantom" and "Electric Blue Watermelon," the North Mississippi Allstars earned the reputation as one of the most intriguing acts to emerge from the loam of Southern blues and roots rock.
Meanwhile, Cody broadened the scope of his musical career and became an artistic entrepreneur in the fields of music, film and TV. He has contributed to several major motion picture soundtracks, including "Barnyard," "Snoop's Hood of Horror" and "Black Snake Moan."
As a producer, he has worked with a wide range of musicians, including Lucero, Cisco Adler and Les Claypool. He also produced British blues guitarist Ian Siegal's last two albums, "The Skinny" and "Candystore Kid," both of which were nominated for Best Contemporary Blues Album at the annual Blues Music Awards. Despite all his work as a producer, Cody continues to be one of the industry's premier drummers, demonstrated by his 2013 Blues Music Awards nomination in the Best Instrumentalist/Drums category.
Most recently, Luther and Cody have toured extensively with Robert Plant & The Band of Joy, while also headlining major festivals and touring internationally with Ian Siegal as part of The Mississippi Mudbloods.
The brothers continually expand the tradition of the Mississippi hill country blues that has inspired them from the beginning, but as Rolling Stone aptly notes, "the Allstars may be children of tradition, but they're digging deep in undiscovered country."
In 2013, the North Mississippi Allstars released their new career-defining record "World Boogie Is Coming." The album marked a return to the band's blues-infused rock and roll roots and pays homage to hill country legends and songwriters like R.L. Burnside and Junior Kimbrough. The project fuses all the elements that have made the Allstars special, while pushing the band's sound further into the future than ever before.
The DMI is an independent center under the College of Arts and Sciences at Delta State University. Its mission is to provide students with a broad and thorough education in the technological, creative and business areas of the music and entertainment industries. For more information about the program, contact the DMI office at 662-846-4579,or visit http://dmi.deltastate.edu.