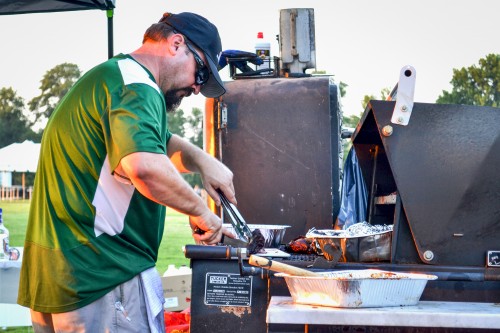 It's no secret that delicious food is a staple in the Mississippi Delta and many events revolve around cooking — which is why it's only natural that Delta State's upcoming Go Green Weekend includes a Cook Team Competition.
Cook teams will have the opportunity to compete in the categories of Sausage Anyway and Jambalaya Anyway. Both sausage and rice will be provided to the teams, and Polk's Meats will be providing the sausage for the event. The competition will be located in Statesmen Park, and cooking sites will be assigned by noon on April 3. The winners will be decided after one round of blind judging, and the Go Green 2014 Grand Champion title will be awarded to the team with the highest cumulative score of the two categories.
"Go Green Weekend is an exciting time at Delta State University with alumni, community members, faculty, staff, students and prospective students coming together," said Jeffrey Farris, director of Alumni Affairs. "We hope to show our prospective students what Delta State is all about, so we are encouraging our cook teams to prepare extra jambalaya for these future students to enjoy."
The Grand Champion will receive $200, and the first place Sausage Anyway and first place Jambalaya Anyway Winners will each receive $100. The entrance fee is $40 for a 20-by-20-foot space. Teams needing a larger space should contact the Alumni Association. Application and payment must be received by March 21.
For more information, contact BBQ Competition Chair, Craig Verhage at cverhage@shelterinsurance.com or Jeffrey Farris, university staff member at jfarris@deltastate.edu or 662-846-4660. To register, visit http://www.deltastategiving.org/alumniassociation/gogreenweekend.