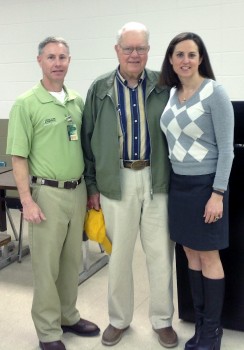 Robert "Bob" Ryder, founding chair of the Department of Commercial Aviation at Delta State University, and past president of the University Aviation Association, recently paid a visit to his old stomping grounds.
Current chair and current UAA president Julie Speakes, along with Chip Cooper, director of Flight Operations and chief flight instructor, enjoyed their visit with the program's original leader. Cooper and Speakes were thankful to rekindle with one of their former instructors.
"I think it's fascinating that Bob comes back as often as he does," said Speakes. "He still actively recruits for our program even though he stepped down in 1990. He comes by about once a year to pick up new recruiting material."
On his visits, he often brings pictures, planning books and documents from the beginning of the aviation department and the Cleveland airport.
In 1982, Delta State developed a Bachelor in Commercial Aviation with majors in aviation management and flight operations. Ryder served as the first department chair. He also developed aviation programs at Parsons College and the University of Dubuque in Iowa, and served as department chairman at both institutions.
Also in 1982, Ryder was elected president of the UAA, an international organization representing collegiate aviation programs. He also served as the chairman of UAA's Airway Science Curriculum Committee, Simulation Committee, and was a member of its board of trustees.
As a member of the organization's Accreditation Task Force, he helped draft the first standards for collegiate aviation degree programs. This work led to the establishment of the Council on Aviation Accreditation, known today as Aviation Accreditation Board International.
Prior to entering the educational field, Ryder spent several years in the aerospace industry as the manager of training and flight test engineer for Aero Spacelines, Inc. and North American Rockwell International in California. He also served with NASA and the U.S. Marine Corps.
Ryder holds a bachelor's in aviation from Western Michigan University and a master's from Miami University. He is rated as a control tower operator and a commercial pilot with single, multiengine and instrument ratings. Additionally, he is a single engine seaplane pilot.
Today, Ryder lives in Branson, Mo. with his wife, where he provides seaplane flight instruction.
To learn more about the Department of Commercial Aviation at Delta State, visit http://www.deltastate.edu/college-of-business/commercial-aviation/.