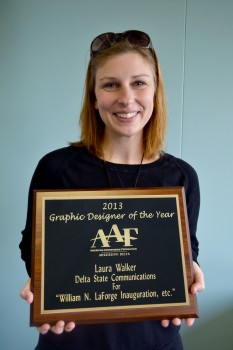 Delta State University's Office of Communications and Marketing brought home eight medals from the American Advertising Federation (AAF) at the Mississippi Delta/American Advertising Awards (AAA) District Seven awards ceremony in Greenville.
The AAA is the advertising industry's largest and most representative competition, attracting over 40,000 entries every year in local AAF club competitions. The mission of the AAA competition is to recognize and reward the creative spirit of excellence in the art of advertising.
The university's award total included one gold, six silvers and one bronze.
Special individual recognition was awarded to Delta State's graphic designer and brand manager Laura Walker, who took home Designer of the Year.
The Office of Communications and Marketing team consists of Vice President for University Relations Michelle Roberts, coordinator Caitlyn Thompson, graphic designer and brand manager Laura Walker, news writer/photographer Rory Doyle, web designer/writer April Mondy, senior secretary Bevin Lamb, student illustrator Charles Taylor and student graphic design students Maria Alejandra Torres, Elizabeth Vaughn and Brittany Benford.
The gold was awarded for the William N. LaForge Inauguration campaign featuring integrated media. Silvers were granted for the 2013 Delta State Pig Pickin' poster, the William N. LaForge Inauguration invitation set, awareness billboards, photOKRAphy photo campaign and "Even Turkeys Fear the Okra" advertising.
A bronze was given for the awareness billboard ads.
"The staff and students in the Communications and Marketing Office, led by coordinator Caitlyn Thompson, are a group of amazingly talented and energetic professionals," said Roberts. "I am incredibly excited that they have received the recognition they so richly deserve. Laura Walker, the senior staff member on the team, should win 'Designer of the Year' at every event. She sets high standards for her work and those of her students, and she achieves them every time. I am very proud of this team."
Delta State President William N. LaForge also praised the office for its recognition at the event.
"I am so very proud of our Communications and Marketing department for the high quality of work they do that has been rightfully recognized by their being selected as AAA award winners," said LaForge. "To win one or two awards in various categories is an amazing feat, and our wonderfully talented staff took home eight awards as well as our graphic designer, Laura Walker, taking the top award as Designer of the Year. Like so many professionals who make the Delta State family what it is, these colleagues make us very proud."
A special thanks is extended to Delta State's Office of Alumni and Foundation for their support and encouragement throughout the design year.
To learn more about the AAF, visit http://www.aaf.org.