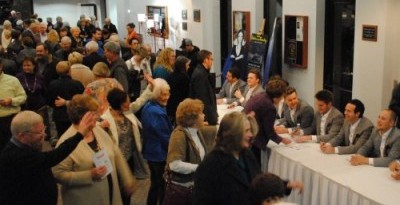 The Bologna Performing Arts Center presented The TEN Tenors and their new program, "On Broadway" this past week. Their concert featured hit numbers from the biggest musicals over the past 70 years on Broadway. Song selections included "Defying Gravity" from Wicked, "Bring Him Home" from Les Miserables and a medley from Jersey Boys.
The TEN Tenors, based in Australia, stopped in the Delta as part of their four-month international tour this spring. Following their double-encore performance, The TEN Tenors came to the lobby to meet audience members. Executive Director of the BPAC Laura Howell was pleased with the show.
"This was one of the most exciting events we have had this season," said Howell. "We have received so many positive notes and phone calls about how much our audience members enjoyed the Tenors."
The Bologna Center is now preparing for the final show of their 19th Season, "THE ADDAMS FAMILY: A New Musical Comedy." THE ADDAMS FAMILY first opened on Broadway in 2010 with Nathan Lane and Bebe Neuwirth and played to over 750 audiences.
The musical is an original story line featuring the iconic characters by the cartoonist Charles Addams, which first debuted in The New Yorker 1938. Chris Jones of the Chicago Tribune described the production as "classic, full-tilt, fast paced, old-fashioned musical comedy!," and John Simon of Bloomberg News called it "uproarious! A glitzy-gloomy musical entirely worthy of the macabre drawings by Charles Addams."
THE ADDAMS FAMILY is a hit blockbuster musical comedy for the entire family. Tickets are $30-$60, and great seats are still available. For more information, visit www.bolognapac.com or call (662) 846-4626.