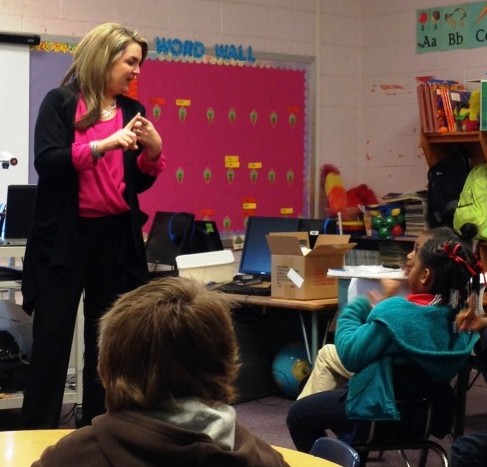 The Bologna Center and West Bolivar School District Partner for Arts Education
Delta State University's Bologna Performing Arts Center, in partnership with the West Bolivar School District, recently began an arts-centered education initiative facilitated through the Kennedy Center's Partners in Education Program.
Throughout the 2013-2014 academic year, national teaching artists have presented arts integration-based workshops and teaching demonstrations to the West Bolivar School District. Recently, teaching artist Sherice Ortman presented comprehensive teaching demonstrations that incorporated movement and math to the teachers and students at West Bolivar Elementary School. This event was the last in a series that focused on incorporation of the arts to enrich the instruction of other subject areas and increase student achievement. A new series of arts integration workshops is now being planned for the 2014-2015 school year.
Previous workshops presented include "Shadow Journeys: Exploring History Through Shadow Puppetry," led by Kennedy Center Teaching Artist Daniel Barash, and "Drama: The Missing Link in Teaching Literacy" led by Kennedy Center Teaching Artist Karen Erickson. All workshop topics presented throughout the school year drew connections between the arts and the Common Core State Standards.
The Bologna Performing Arts Center and West Bolivar School District were one of twelve teams nationwide selected in 2012 to become members of the prestigious Partners in Education program of the John F. Kennedy Center for the Performing Arts.  Selected because of their demonstrated commitment to the improvements of education in and through the arts, the partnership team participates in collaborative efforts to provide professional development opportunities in the arts for educators.
For more information about the Partners in Education program, please contact Dr. Sherry Shepard, Director of Curriculum and Instruction for the West Bolivar School District at 662-759-3733 or Whitney Cummins, BPAC Arts Education Coordinator at 662-846-4844.