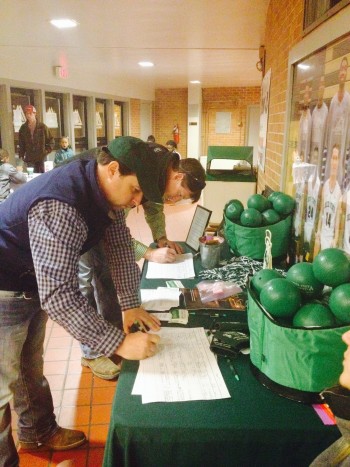 The Delta State University Alumni Association, along with the Bolivar County Alumni Chapter,  hosted the annual Bolivar County Alumni Night at Walter Sillers Coliseum on Feb. 27. The event began prior to the Lady Statesmen and Statesmen home basketball games.
All alumni who updated their information with the Alumni Association received free admission into the games and had their name put into a drawing for a free night's stay at The Alluvian in Greenwood. Active alumni members had their names put in the drawing twice. Ben Bailey '91 was the winning name drawn.
The night fared well for both the Statesmen and Lady Statesmen with victories over Valdosta State University.
The event also served as the formal announcement of Go Green Weekend, a collaboration between various university departments, which will be held April 3-5. The weekend will include a cook team competition, Delta Duathlon, Springfest, a Recruiting Day, Bolivar County Alumni Crawfish Boil and several athletic events. For more information, visit www.deltastategiving.org/alumniassociation/gogreenweekend.
To stay up to date with Alumni Association's activities, follow these social media sites: Facebook (Statesmen Graduates), Twitter (@DSU_Alumni), Tumblr (www.dsualumni.tumblr.com), LinkedIn (DSU alumni), Instagram (dsualumni) and You Tube (dsualumni1).