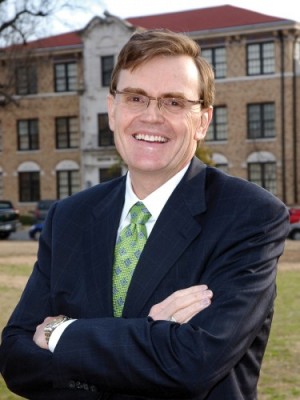 A familiar face at Delta State will be tabbed as the latest addition to the Delta State University Colloquia Distinguished Speakers Lecture Series at 6 p.m. April 2 at Jobe Hall Auditorium.
David Abney, a 1976 Delta State graduate who is the Chief Operating Officer for United Parcel Service — the world's largest package delivery company — joins the colloquia list in anticipation of his keynote address at the ninth annual International Business Symposium (IBS).
The IBS provides a unique look at current trends in the business world. This year's symposium will also take place at Jobe Hall Auditorium on April 4, beginning at 9 a.m.
President William N. LaForge established the colloquia program when taking office in 2013. The platform is an ongoing series of top-flight lectures and addresses featuring prominent speakers. Former Mississippi governor William F. Winter was honored as the first presenter.
David and Sherry Abney, Delta natives, have sponsored the IBS at Delta State since its inception. As the COO at UPS, Abney holds responsibility for logistics, sustainability and engineering. In these roles, he directs all facets of the UPS transportation network, serving more than 220 countries and territories.
Abney studied marketing at Delta State and was named the 2007 Outstanding Alumnus of the Year. He currently serves on the Delta State University Alumni Foundation Board of Directors.
Through UPS, he has traveled the world on business, but his Delta roots are forever ingrained. Abney's appreciation for his alma mater sparked the creation of the IBS.
"Sherry and I wanted to do something meaningful for the Delta. By bringing global leaders onto campus and sharing their experiences with students, I believe we'll be able to expand Delta State students' horizons in how they see and prepare for their futures," Abney said in a previous Delta State interview.
Abney has held various positions throughout his UPS career, which began in 1974. He started as a part time employee loading and unloading packages before working up to division manager in New Jersey and district manager in Utah.
He also served as president of SonicAir®, UPS's same-day delivery service. While president of the airline, Abney was honored with the Professionalism in Services/Support Management Award by the International Association of Services Management for demonstrating exemplary managerial characteristics.
To this day, he remains proud of the path Delta State helped pave for him.
"Obtaining my degree from Delta State was like crossing the continental divide. I was the first in my family to graduate from a university," said Abney. "I also transitioned from the hourly ranks to management at UPS. My education at Delta State certainly helped prepare me for the 'real world' of business.
"As I now travel throughout the world, I proudly refer to Delta State wherever I go. I wholeheartedly recommend Delta State to anyone that is interested in continuing their education."
To learn more about the ongoing colloquia series, visit www.deltastate.edu/president/colloquia.