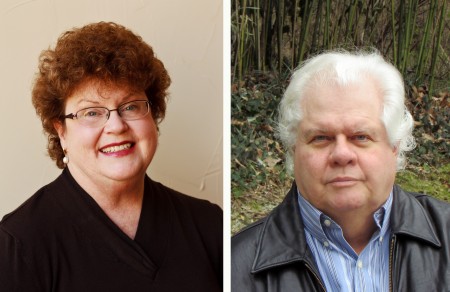 Thacker Mountain Radio, the award-winning literary and music radio broadcast originating out of Oxford, Miss., will return for the sixth Delta Edition on March 1 at 3 p.m. in DMI Studio A of the Whitfield Building on the campus of Delta State University.
The show marks the annual DMI anniversary and spring fundraising event with the purpose of raising scholarship funds for music industry studies students in the DMI program. Funds from this event are earmarked for the Duff Dorrough Scholarship Fund, in memory of longtime Thacker Mountain bandleader and Delta music legend, Duff Dorrough of Ruleville. In addition, a portion of this year's funds will be used to continue recovery efforts from major flood damage to the Whitfield Building and DMI equipment that occurred over the 2013 Thanksgiving holiday.
This year's featured author is Charlaine Harris, a New York Times bestselling author who has been writing for 30 years. She was born and raised in the Mississippi River Delta area, and though her early works consisted largely of poems about ghosts and teenage angst, she began writing plays when she attended Rhodes College in Memphis. She switched to novels a few years later, and after releasing the dark Shakespeare mysteries, Harris created "The Sookie Stackhouse" urban fantasy series. The first book in the series, "Dead Until Dark," won the Anthony Award for Best Paperback Mystery in 2001. Sookie Stackhouse has proven to be so popular that Alan Ball, creator of the HBO television series "Six Feet Under," produced the HBO series based on the books. He wrote and directed the pilot episode for the series "True Blood," which premiered in September of 2008 and successfully continues in its seventh season.
Featured musical guest for this year's Delta Edition will be McComb native Dan Tyler. From his first recording session at the famed Malaco Studios in Jackson, throughout his years in McComb and later, at Ole Miss, he developed as a masterful songwriter. He moved to Nashville where success came quickly with a No. 2 hit by Eddie Rabbitt called "Hearts on Fire," and a major hit, "Bobbie Sue," by the Oak Ridge Boys, while he was still practicing law. He left the law profession to establish Intuit Music Group, a music publishing company that is still active today. His co-write with Kix Brooks, "Modern Day Romance," was a No. 1 hit for the Nitty Gritty Dirt Band, and he has written numerous other hits for LeAnn Rimes, Kenny Rogers, the Fabulous Thunderbirds and SKO. Tyler has also published a novel, "Music City Confidential," an insider's fictional take on the colorful country music industry.
Merigold's favorite son, Fish Michie, will be performing with the Thacker Mountain house band, the Yalobushwhackers, and DMI's own classic rock band, DeltaRoX, will add a couple of numbers to the show, which is hosted by Jim Dees. There is no charge to attend the show, but contributions to the scholarship fund are encouraged.
The Delta Music Institute is an independent center of study under the College of Arts and Sciences of Delta State University. The focus of the DMI music industry studies program is to provide students with a broad and thorough education in the technological, creative, and business areas of the music and entertainment industry.
To learn more, visit http://www.deltastate.edu/college-of-arts-and-sciences/dmi-delta-music-institute-homepage.