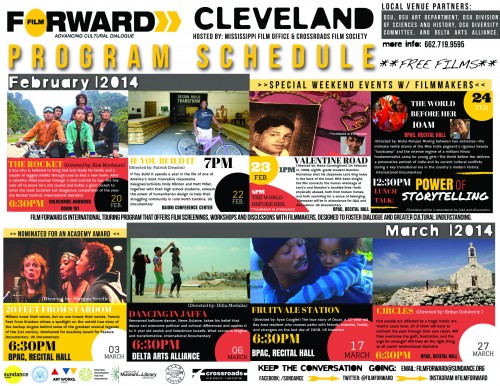 Click HERE to expand the festival schedule.
Delta State University will present "Film Forward: Advancing Cultural Dialogue," a partnership between Sundance Institute and four U.S. federal cultural agencies. The event will feature free screenings of eight films with moderated discussions, panels and artist roundtables. The program comes to the state through the Mississippi Film Office and Crossroads Film Society. Following stops in the Magnolia State, the program extends to other states and international locations.
Screenings on campus will start Feb. 20 with the film "The Rocket," which will be presented in Holcombe-Norwood Room 151 at 6:30 p.m.
For a full schedule of events, visit www.sundance.org/filmforward, or for more information, contact Michelle Johansen at mjohansen@deltastate.edu.
On Feb. 23-24, filmmakers Marta Cunningham ("Valentine Road") and Nisha Pahuja ("The World before Her") will be in attendance for Q and A sessions. On Feb. 23 at 1 p.m., "Valentine Road" will be showing in the Bologna Performing Arts Recital Hall, followed at 4 p.m. by "The World Before Her." The following day at 10 a.m., "The World Before Her" will be played again.
"I was compelled to make 'Valentine Road' and use this film as an educational tool for schools to start dialogue around compassion," said Cunningham. "Through Film Forward, I am excited to meet audiences in Mississippi to talk about the themes, challenges and issues that unite us all."
Common themes explored in the films include communities in conflict, overcoming adversity and the transformative power of art. In each location, Film Forward seeks audiences that have limited access to independent film. In Mississippi, the program will explore the regional tradition of storytelling, blues music, literature and filmmaking, and delve into the topic of tolerance.
Also on Feb. 24 at 12:30 p.m., a panel discussion will be held on "The Power of Storytelling," looking at how stories are used, from music to film, to expose issues and themes to a greater community. Panelists will include Cunningham, Pahuja, Alison Fast and Chandler Griffin from Barefoot Workshops, associate producer Thabi Moyo and Chasidy Buckley, a Delta State graduate and one of the subjects of "Prom Night in Mississippi." Each will speak about his or her experiences and motivations.
Film Forward uses the power of cinema to promote broader cultural understanding, inspire curiosity and enhance awareness of shared stories and values across generations, religion, ethnicity and borders.
"The films in the Film Forward series are stories that absolutely had to be told — not that needed or wanted to be told, but that someone had to tell," said Ward Emling, director of the Mississippi Film Office. "We all have stories — this series teaches us about passion and about vision, about acting on a belief and about the power of film.
"All of these films come from a very driving place and will have impact. Each of these films has the power to change us as a people and in our singular lives."
A screening of "Dancing in Jaffa" is also scheduled for 6:30 p.m. on March 6 at the Delta Arts Alliance in downtown Cleveland.