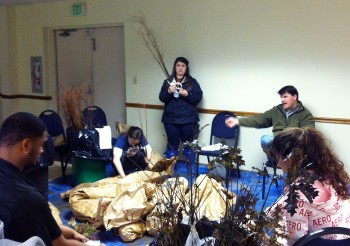 Students from the Division of Biological and Physical Sciences recently pitched in to help make the community a bit greener.
Dr. Nina Baghai-Riding, professor of biology and environmental sciences, and eight students in the course Foundations of Environmental Science helped bundle about 2,000 trees at the National Resource Conservation Service (NRCS) facility in Cleveland. The trees were provided to the community in hopes that they will be planted at residences, fields and parks. In the tree bundles were saplings of local species including bald cypress, willow oak, water oak, Nuttall oak, Shumard oakand swamp chestnut oak.
Teressa Oakes, district administrator for the Bolivar County Soil and Water Conservation District, helped organize the event.This is the fourth year that Delta State students have participated. Jason Makamson, NRCS Soil Conservationist, and Trinity Long, District Conservationist for Sunflower and Bolivar County, both Delta State alumni, spoke to the students on environmental science.
Biological and Physical Sciences seeks to develop the technical competence and the broad intellectual foundation needed to understand the impact of science and technology on humans and to make informed decisions on social, ethical and environmental questions. For more information on the programs offered, please visit the division page on deltastate.edu