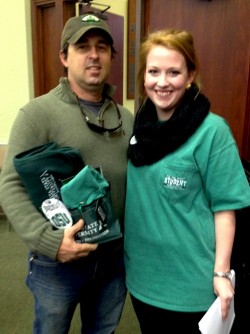 The Delta State University Student Alumni Association welcomed Michael Aguzzi '97 to their first meeting of the semester. Aguzzi spoke to the group about the alumni experience.
"One of our goals for the Student Alumni Association is to have an alumnus come back to campus to speak to the group at each meeting," said Jordan Thomas, SAA advisor. "We feel like it's important for the group to hear from alums who once sat where they are sitting."
The Student Alumni Association is a bridge between the student body and the Alumni Association. The organization is very involved with the Delta State University Alumni Association and works closely with alumni. Aguzzi was the first speaker of this new initiative.
"We had a very good first meeting back," said Amy Scott, president of SAA. "It was great getting to hear Michael Aguzzi talk about how important it is to be an active alumnus."
SAA works with the Alumni Association on projects such as Pig Pickin' and Homecoming and is also very active in community service. The student group also sponsors a scholarship available for a student that has shown outstanding leadership while being a member of the organization.
To stay up to date with Alumni Association's activities, follow these social media sites: Facebook (Statesmen Graduates), Twitter (@DSU_Alumni), Tumblr (www.dsualumni.tumblr.com), LinkedIn (DSU alumni), Instagram (dsualumni) and You Tube (dsualumni1).