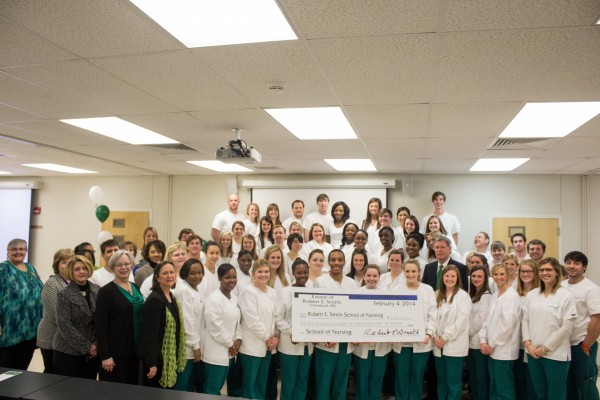 The Delta State University Foundation received historic news last week with notification from the Robert E. Smith Estate of the largest single gift in the history of Delta State University. The Robert E. Smith School of Nursing received a $3.1 million bequest from Smith's estate.
Smith's lifetime giving of $4 million has been designated to benefit the Robert E. Smith School of Nursing to underscore the desire of the late Cleveland resident to transform healthcare in the Mississippi Delta. His most recent donation represents the largest gift to the ongoing $40 million Campaign for Delta State University.
Smith, a retired rice and soybean farmer who passed away in 2011, is a former member of the Delta State University Foundation Board and native of Cleveland. He now has the distinct honor of making the largest gift by an individual in the history of Delta State University.
In 1996, Smith contacted the Delta State University Foundation about establishing an annual scholarship for a student enrolled at Delta State's School of Nursing.
"Mr. Smith has been a donor to Delta State University's School of Nursing since 1996 when he endowed his first scholarship," said Keith Fulcher, executive director of Alumni and Foundation. "The Foundation is honored to recognize Mr. Smith's total giving to the School of Nursing of $4 million through his latest gift."
The largest commitment from an individual previous to the Smith donation was made by Dr. and Mrs. Nino Bologna of Greenville, which was a $2 million pledge to name the Bologna Performing Arts Center in memory of their two children, Sam and Nina. The second largest gift of $1.5 million was given by Billy and Patty Dorgan, given in honor of their son, Billy Dorgan Jr. to construct the Billy Dorgan Jr. Student Performance Center. Billy was a member of the university's 2000 National Championship football team.
During his lifetime, Smith funded the endowment of six scholarships for the Robert E. Smith School of Nursing and provided additional funding through a Charitable Gift Annuity and a Charitable Remainder Trust. Delta State's Robert E. Smith School of Nursing was named in his honor in 2009 in appreciation of his generous gifts and pledges.
The latest gift from the Smith Estate is unrestricted funding that can be put toward faculty development, travel, equipment and various other costs that will benefit the Robert E. Smith School of Nursing.
"Mr. Smith called me in 1996 at the Alumni and Foundation Office," said Fulcher. "I'll never forget what he said to me on the first call. He said, 'I want to transform healthcare in the Mississippi Delta.'"
Ruth Ann Lopez Luciano '02, was the first recipient of the Robert E. Smith Scholarship and can speak firsthand how his support has impacted her life.
"I met Mr. Smith in 1990 when I worked at Delta Cream Donuts in Cleveland. I was in high school at the time and dreamed of becoming a nurse," said Luciano. "It is an honor to have received the very first Robert E. Smith nursing scholarship. I am pleased to be a part of his goal of transforming healthcare in the Delta."
She is now a dedicated nurse at the North Sunflower Medical Center in Ruleville.
Since the inception of his scholarship endowment gifts, 27 students have received one of six endowed scholarships. His pledge will one day provide hundreds of scholarships for needy and deserving nursing students.
Dr. Lizabeth Carlson, dean of the Robert E. Smith School of Nursing, said Smith has been vital to the college's development.
"His scholarships are the only nursing scholarships that start when a student is a freshman at Delta State. All other nursing scholarships are awarded after a student is admitted to the nursing program, typically in the junior or senior years," said Carlson. "Mr. Smith's generosity has made the difference between students being able to go to college and earn a nursing degree and having to suspend or even stop their college plans.
"This recent gift has the potential to absolutely transform nursing and health care in the Yazoo-Mississippi Delta. We are giving the potential use of this gift a great deal of thought and discussion to maximize its potential for the long term."
President William N. LaForge said the university's gratitude for Smith's support is never-ending.
"This is truly transformational in nature. Not only does it serve to attract more quality nursing students and support our great nursing program, it also goes to the heart of Robert's desire to transform healthcare in the Delta," said LaForge. "This is a major gift to Delta State and our nursing program, but also to the Delta."
Smith graduated from Cleveland High School and later Mississippi State University with a Bachelor of Science degree from the School of Agriculture. At Mississippi State, he was a member of the Sigma Alpha Epsilon fraternity. In addition, he has also attended Delta State University.
He paid his way through college by working in the MSU laundry and waiting tables at a fraternity house. He slept at night in the laundry on a cot. He comes from a very humble beginning due to his father dying in 1937 when he was only nine years of age. His mother, a public school teacher in Cleveland, raised three sons and ensured that all three earned a college degree.
Smith was very devoted to his country and served courageously in World War II. He attended Officer's Training School in Fort Knox, Ky., and upon graduation, served as an officer in the Tank Division of the Armored Calvary. He served in General George Patton's Thirteenth Armored Division in Europe where he participated in the liberation of Paris, the Battle of the Bulge and fought the Germans 1,300 miles across Europe.
At the conclusion of the war, he received the European African Middle Eastern Campaign Medal with three bronze stars, the American Campaign Medal and the World War II Victory Medal. He was discharged as a First Lieutenant.
He was a man of strong faith as a member of the First United Methodist Church of Cleveland. He also served on the local Wesley Foundation board of directors, helping with gifts for scholarships, student mission trips and construction costs.
Smith was also named the 2010 Philanthropist of the Year for Mississippi, and a video of his nomination can be viewed at http://tinyurl.com/kt2sg2b. In accepting the statewide award, Smith remarked, "I appreciate this honor and want to say that this makes me feel like my life has been worthwhile to be able to help many others."
To learn more about opportunities at the Robert E. Smith School of Nursing at Delta State, visit www.deltastate.edu/school-of-nursing. To make a gift to support Delta State University, contact the Office of Development at 662-846-4704, email development@deltastate.edu or make a gift online at www.deltastategiving.org.