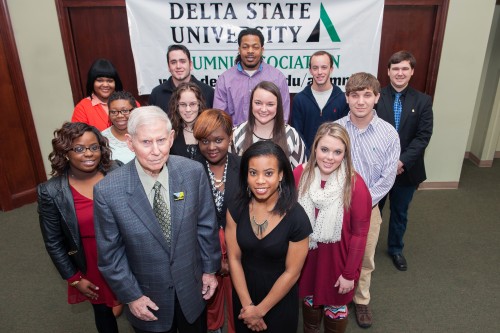 The Delta State University National Alumni Association is committed to providing scholarships for students whose parents are alumni. The Hugh Ellis Walker Alumni Scholarship is a one-time $500 scholarship given to incoming freshmen or transfer students whose parents are dues-paying members of the Alumni Association. The scholarship recipients recently had the opportunity to meet and have lunch with Hugh Ellis Walker '52, which is a benefit of receiving the scholarship.
Walker served as the Alumni Secretary from 1969-1987. In 1987 he was named executive director of the Alumni-Foundation. The Hugh Ellis Walker Alumni-Foundation House was dedicated in his honor in 1996, and he was inducted into the Alumni Hall of Fame in 2011. Walker was named Outstanding Alumnus of the Year in 2013.
"It was a pleasure to meet those who received the alumni scholarship," said Walker. "We need more. The more we have the more students we can bring in. I'm proud to be a part of this project."
Over the past six years, more than 100 students have received this scholarship. There were 27 recipients this year, more than any previous year. The increase is due in large part to the Sustaining Life Members program. The Sustaining Life Membership was launched in 2013 as a way for paid-in-full life members to continue their support to the Alumni Association. The $100 annual gift goes to fund the Hugh Ellis Walker Scholarships.
"The Alumni Association continues to grow the number of scholarships that are given to children of alumni each year," said Jeffrey Farris, director of Alumni Affairs.
This year's recipients of the scholarship include: Mollie Evans of Southaven, Trace Bray of Cleveland, William Weeks of Cleveland, Matthew Turner of Columbus, Ivy Spradling of Clarksdale, Landon Shelton of DeKalb, Texas, Jable Shelton of DeKalb, Texas, Madison Farr of Boyle, Hunter Stewart of Oxford, Hayden Stewart of Oxford, Noah York of Cleveland, Billeria Hollins of Cleveland, Letia McGee of Coldwater, Mitchell McNeer of Cleveland, Kailey Bryan of Snellville, Ga., Kendal Davis of Oxford, Sarah Fincher of Greenwood, Eldrin Richard of Cleveland, Sydney Street of Greenville, Ashley Ervin of Greenville, Michael Morganti of Brandon, Nicholas Lazar of Cleveland, Destinee Harris of Cleveland, Casey Gee of Cleveland, Katan McMillian of Brandon, Stephen Rester of Greenville and Austin Campbell of Cleveland.
To give to the Hugh Ellis Walker Alumni Scholarship Fund, visit to www.deltastategiving.org/giving/scholarships/hughelliswalkeralumnischolarship. For more information, contact the Alumni Association at 662-846-4660 or www.deltastategiving.org/alumniassociation.
To stay up to date with Alumni Association's activities, follow these social media sites: Facebook (Statesmen Graduates), Twitter (@DSU_Alumni), Tumblr (www.dsualumni.tumblr.com), LinkedIn (DSU alumni), Instagram (dsualumni) and You Tube (dsualumni1).