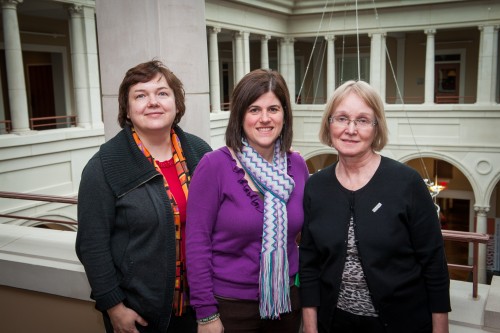 Delta State University, President William N. LaForge and International Student Services are proudly hosting two faculty guests from Perm State University of Russia this week.
Throughout their visit, professors Svetlana Polyakova and Elena Gritsenko — both faculty members in Perm State's Department of English Language and Intercultural Communication — will be meeting with individual colleges and divisions at Delta State to identify steps in developing international exchange partnerships between the two institutions.
Polyakova and Gritsenko will make a presentation Thursday at 3 p.m. in the Baioni Center of Broom Hall to discuss Perm State and the federal subject of Perm Krai, including the history, education, music, arts and economics.
They will also participate in this week's taping of Fireside Chat, LaForge's weekly online video blog.
This is the first time in the Mississippi Delta for both visitors, so the duo will be treated with a tour of Cleveland and Bolivar County as well as a separate Blues tour.
The relationship with Perm State dates back to 2008 when LaForge first met Polyakova and Gritsenko as a visiting professor at the university. LaForge returned in 2010 as a Fulbright Fellow. The three have remained friends and colleagues ever since.
"We are very happy for Bill LaForge becoming the president of Delta State University," said Polyakova. "We have seen that he is a great leader and so motivated. It is an honor to be here for the first time to see him at his home university."
"The opportunities to work with Delta State are tremendous. By the end of the week, we are hoping to meet so many faculty, staff and students who would be converted into international universities. We want to help bring new programs."
Gritsenko is also delighted to develop a connection between the two institutions.
"This is a great experience to be here and get acquainted to the people and the state. We are looking forward to building relationships with Delta State University," said Gritsenko.
LaForge is honored to host two friends and introduce them to the environment of future Perm State exchange students.
"I am thrilled that our great colleagues from Perm State University are here with us this week," said LaForge. "We will look at ways we can facilitate our exchange program — through courses and programs that might be of interest when their students come here.
"It's wonderful to have them here and it accentuates our interest on international student programs. We are off to the races and we are very glad they are here."
Delta State is also developing partnerships with universities in Poland and Bulgaria, something LaForge has strongly advocated since taking office.
Christy Riddle, executive director of International Student Services and the Student Success Center, said the initial agreements with all the institutions have been signed and final specifics would soon be fulfilled.
"We are very excited to finalize these agreements. These international partnerships will offer the opportunity for our Delta State faculty and students and their faculty and students to travel, teach and study abroad through various exchange programs," said Riddle. "This is a win-win for Delta State because the students traveling abroad will gain a greater understanding of global issues, and it will also expose our on-campus students to other cultures."
Perm State has agreed to develop the following areas: collaborate to improve the educational process by using educational technologies, including information and media technologies, the Internet, and computing platforms, for undergraduate and graduate students and faculty members of the universities; seek to develop and enhance multicultural and intercultural competencies; and collaborate to develop academic scholarship and applied research in fields of study appropriate to interests of students and faculty of the universities.
The university was founded Oct. 14, 1916 and originated on the dividing line of two epochs of Russian History. That decade was marked the "Silver Age" of Russian culture for ingenious scientific achievements, rapid economic growth and also by catastrophic war, which brought Russia to the brink of social and political revolution. These factors shaped the history of Perm University.
To learn more about international programs at Delta State, contact Riddle at 662-846-4574 or criddle@deltastate.edu.