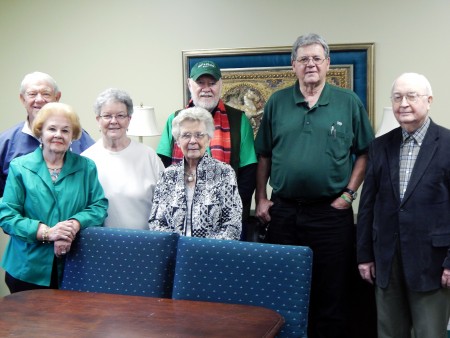 Delta State University Alumni Association recently announced dates for Pig Pickin' and Homecoming 2014 — two of the largest events held on campus.
The 29th annual Pig Pickin' will be held this year on Sept. 26-27 when the Statesmen host Central State University of Ohio. The full schedule of events will be announced at a later date.
"Pig Pickin' has grown into one of Delta State's largest and most popular weekend events," said President William N. LaForge. "It is always fun to meet and greet the families of alumni and friends who come to campus to share in culinary delights, numerous activities, tall tales of yesteryear and an exciting football game. I look forward to seeing everyone in Statesmen Park this fall."
Homecoming has been set for November 14-15 and the Statesmen will face off against their old in-state rival, Mississippi College. Throughout the weekend, the Alumni Association has a variety of activities planned. This year's featured class is the class of 1964, which will be celebrating 50 years since graduating from Delta State. They will also be inducted into the prestigious Golden Circle, which is a constituency group of the Alumni Association that honors alumni who graduated at least 50 years ago.
"Homecoming is always an exciting weekend for the Delta State family and a great way to celebrate our special university, and this year will be no exception," said LaForge. "I'm looking forward to welcoming all returning alumni and friends, especially our Golden Circle graduates."
The Alumni Association also takes time during Homecoming to honor the Alumni Awards recipients at the annual gala dinner. Applications are currently being collected for this year's recipients. To nominate someone, or for more information, visit www.deltastategiving.org/alumniassociation/alumniawardwinners. The deadline for applications is May 9.
"Pig Pickin' and Homecoming are two special events designed to appreciate traditions that have been established by previous university leaders, as well as create new traditions for our alumni and friends," said Jeffrey Farris, director of Alumni Affairs.
For more information on both events, contact the Alumni Association at 662-846-4660. To stay up to date with Alumni Association's activities, follow these social media sites: Facebook (Statesmen Graduates), Twitter (@DSU_Alumni), Tumblr (www.dsualumni.tumblr.com), LinkedIn (DSU alumni), Instagram (dsualumni) and You Tube (dsualumni1).