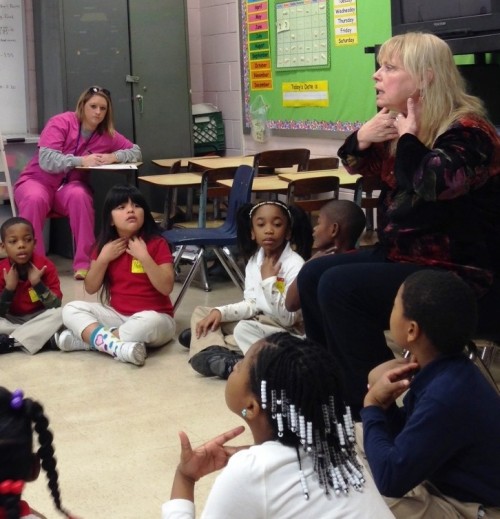 Delta State University's Bologna Performing Arts Center (BPAC), in partnership with the West Bolivar School District, recently began an arts-centered education initiative facilitated through the Kennedy Center's Partners in Education Program. This past week, National Kennedy Center Teaching Artist Karen Erickson conducted teaching demonstrations at West Bolivar Elementary School that connected literacy with the dramatic arts.
Students in first, second and third grade had the opportunity to participate in innovative and engaging lessons led by Erickson. Teachers at the elementary school were able to observe these arts integration lessons firsthand and were given the opportunity to discuss any questions or concerns about the lesson with Erickson.
In addition to the teaching demonstrations, Erickson also led a professional development workshop entitled Drama: The Missing Link in Teaching Literacy for classroom teachers and arts educators of grades 1-8. The workshop was held at the Jacob Conference Center on the Delta State University campus and attended by educators in the Delta region. During the workshop, teachers developed various strategies and techniques related to promoting literacy through the dramatic arts. Teachers left the workshop with a wide variety of instructional tools and resources that can be used to incorporate the dramatic arts into their lessons pertaining to literacy.
The Bologna Performing Arts Center and West Bolivar School District were one of twelve teams nationwide selected in 2012 to become members of the prestigious Partners in Education program of the John F. Kennedy Center for the Performing Arts.  Selected because of their demonstrated commitment to the improvements of education in and through the arts, the partnership team participates in collaborative efforts to provide professional development opportunities in the arts for educators.
An additional arts integration workshop and subsequent teaching demonstrations will be presented at the West Bolivar School District on March 17 and 18 by Sherice Ortman, teaching artist and instructional coach for the Waterloo Community School District in Iowa. For more information about this workshop, please contact Whitney Cummins, BPAC Arts Education Coordinator, at 662-846-4844.