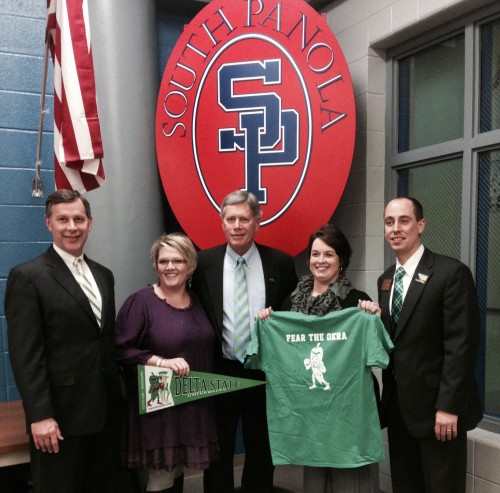 The Delta State University Alumni Association recently traveled to Batesville for the Panola/Tate County Alumni Meeting. This year's gathering was held in the South Panola High School Library. With over 50 alumni, friends and prospective students in attendance, the event was a huge success for the chapter that has not met in several years.
The program featured Delta State President William N. LaForge who gave the crowd an update on the state of the university. Jeffrey Farris, director of alumni affairs, also spoke about the university, and Chris Gaines, director of recruiting, gave a report on admissions. Ann Marie Mayers Pate, a member of the athletic alumni board, presented the athletic report, and Chief Developmental Officer Gary Bouse gave a report on development. Keith Fulcher, executive director of the Alumni-Foundation, and Ann Giger, director of donors, were also present.
President LaForge also had the chance to get to know several prospective students that were in attendance, many of whom have already committed to attending Delta State in the fall.
Follow the Alumni Association on our social media sites– Facebook: Statesmen Graduates; Twitter: @DSU_Alumni; Tumblr: www.dsualumni.tumblr.com; LinkedIn: DSU alumni; Instagram: dsualumni; and You Tube: dsualumni1.