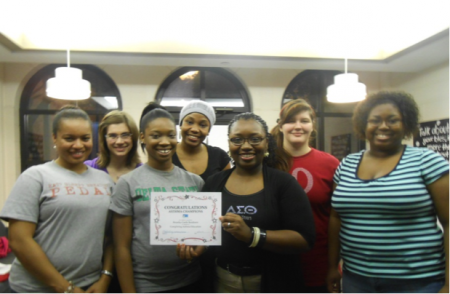 On Feb. 20, the residents of Brumby-Castle dormitory on the campus of Delta State University were awarded a certificate for becoming Asthma Champions.
The Asthma Champions platform falls under the envelope of the Delta State University School-based Asthma Management Program (SAM). The core goal of the program is to promote asthma management and to bridge the gap between schools, parents, educational information and pharmaceutical companies.
Marquita Dorsey, health advocacy coordinator of SAM, discussed the importance of asthma management to more than 30 female residents.
Dorsey said, "The most important thing about what we do is ensuring that everyone is fully aware of the severity of asthma as well as the short and long term effects if not treated properly. Asthma is a lifelong illness that cannot be cured but it can be controlled."
Asthma education sessions and health fair displays are available upon request by contacting SAM at 662-846-4807 or via email at mdorsey@deltastate.edu. The program is housed at the Center for Community and Economic Development Center at 1417 College St. on the corner of Bishop Road.