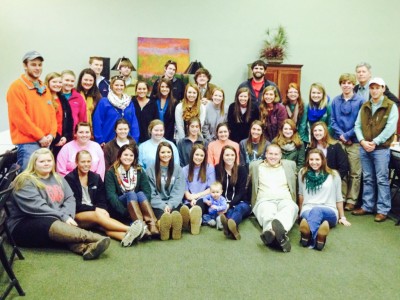 The Delta State University Student Alumni Association recently welcomed President William N. LaForge '72 to its February meeting. The SAA recently began inviting alumni leaders to speak at monthly meetings, and LaForge spoke to the group about his experiences as a student and alumnus.
"We were very excited to welcome President LaForge to our SAA meeting," said Jordan Thomas, assistant alumni director and advisor of SAA. "This was our second meeting that we invited an alumnus to speak, and we have had great response to the new initiative. The students were very excited to hear about LaForge's experiences."
The Student Alumni Association is a bridge between the student body and the Alumni Association. The organization is very involved with the Delta State University Alumni Association and works closely with alumni.
To stay up to date with Alumni Association's activities, follow these social media sites: Facebook (Statesmen Graduates), Twitter (@DSU_Alumni), Tumblr (www.dsualumni.tumblr.com), LinkedIn (DSU alumni), Instagram (dsualumni) and You Tube (dsualumni1).