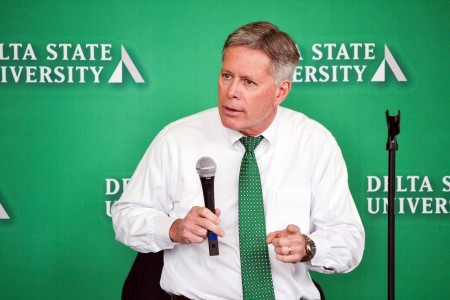 Delta State University President William N. LaForge continues to progress at unifying all corners of campus as the institution strives toward international distinction.
Beginning in the fall of 2013, LaForge has held First Friday faculty meetings each month as part of his communication initiative that spreads campus-wide — an effort to show the transparency of the administration.
"Effective campus communications are vital to increased collaboration, understanding, teamwork and efficiencies," said LaForge. "Within my first two months on campus, I held open forums with students, faculty and staff to ensure the beginning of communications that should drive this campus and our collective efforts.
"I took the opportunity to visit and meet with many departments, programs and operations on campus, and I will continue that practice."
LaForge's series of First Friday "coffee sessions" are held in the faculty lounge at the H.L. Nowell Student Union. Meetings feature any topics the faculty feels warrant discussion. Topics can be campus related or not, a book they are reading, a project they would like to take on and more.
Don Allan Mitchell, president of the Faculty Senate, said the program provides a refreshing opportunity to meet with the university's leader.
"There are many colleges and universities where one rarely sees the chief executive officer, except at graduation," said Mitchell. "Smaller colleges tend to have more success with having an accessible president, and when President LaForge agreed to First Fridays, it was as if he ran up with a green and white banner that said, 'We're small. That's good. And I want to get to know my faculty.' That's very empowering."
Mitchell added that the meetings help connect the physical layout of campus, with the president and three of his four vice presidents being housed across the highway in Kent Wyatt Hall.
"His desire for open communication is impressive, and is not limited to his office hours in the Union faculty lounge on the first Friday of every month," added Mitchell. "It comes in many forms. For instance, timely email response is important to me, personally. He always responds.
"He wrote hundreds of handwritten thank you notes after the inauguration — that's impressive. And of course, if you desire to meet with him face-to-face, he is incredibly easy to talk to, which I know the students and my colleagues particularly appreciate."
The sessions are arranged on an appointment basis and must be organized through the president's office. For more information, contact 662-846-4000.