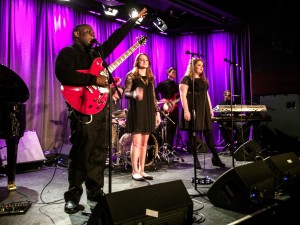 The anticipation leading up to GRAMMY® Museum Mississippi in Cleveland continues to bring life changing opportunities for students enrolled in the Delta Music Institute at Delta State University.
For the second year in a row, the DMI All-Stars — a student band that covers songs of Mississippi GRAMMY-winning music — rocked the stage during the annual Mississippi Night at GRAMMY Week in Los Angeles on Jan. 23.
This year's group of students grew to six performing band members and four non-members who assisted with road management and tech. According to DMI Director Tricia Walker, the entire group put on a stellar show at the Clive Davis Theater inside the GRAMMY Museum.
"This year was a little different in that the DMI All-Stars were given a feature spot inside the theater," said Walker. "They put together a 30-minute show and knocked it out of the park."
The audience was filled with a number of dignitaries, tourism leaders, politicians and special guests who gathered to listen to talented aspiring musicians and to honor the history and culture associated with the birthplace of American music.
The Cleveland Music Foundation, the community-based organization partnering with GRAMMY to establish the new museum in Cleveland, first invited the All-Stars to perform at Mississippi Night in early 2013.
Upon completion in the fall of 2015, GRAMMY Museum Mississippi will become only the second museum of its kind in the world. This unique partnership is already reaping benefits for DMI students.
"It was a lot of firsts for me — my first airplane ride, first time over the mountains and my first time out West," said Louis Stewart, a DMI student who assisted with tech. "It was definitely an awesome experience. I'm from Clarksdale and I've spent my whole life in the Delta — we were right there a part of things you only see on TV.
"We really got to see how the sound guys in L.A. do things. And just to sit in on the GRAMMY rehearsal was amazing. This whole trip makes me want to strive even harder to get to where I want to be."
Recent DMI graduate Laeitta Wade also joined the crew to document everything as a videographer.
"It was an unbelievable experience that I never dreamed I would be part of," said Wade. "I got to see the places where a lot of my role models started their careers. It's an epic feeling that they have these connections with the Delta. Being inside the original museum helps to imagine how it will look when they open the museum in Cleveland."
Along with the group's big performance, they also had the opportunity to watch the GRAMMY ceremony rehearsal, tour the museum, explore the city and beach, and visit Warner Bros. Studio.
"What I really hope our students get out of this is that it's possible to come from a small town and succeed in this industry," said Walker. "You can start anywhere, and after visiting Los Angeles, I think they're beginning to believe that.
"The DMI All-Stars are great ambassadors for the DMI program and Delta State University. We look forward to developing more intern partnerships with some of the universities in Los Angeles via GRAMMY Museum Mississippi."
President William N. LaForge, who also went on the trip, was blown away by the accomplishments of the students.
"What a grand opportunity it was for our students to be able to perform during GRAMMY Week," said LaForge. "They are incredibly talented, performed in a stellar manner and made us all very proud. It was a thrill to see them soar in another environment and it's a wonderful opportunity for a student from Delta State to have that chance.
"Our Delta Music Institute offers unique, practical and cutting edge programming that affords our students the opportunity to learn technical and academic skill sets that will help them advance their careers. It's all part of what a great university does."
To learn more about the GRAMMY connection with the Delta Music Institute at Delta State, visit http://dmi.deltastate.edu.