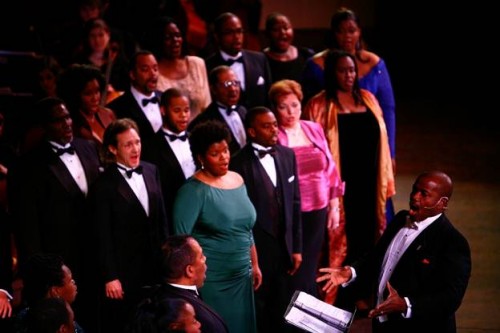 The American Spiritual Ensemble will perform one night only at the Bologna Performing Arts Center at Delta State. Come see some of the finest, classically trained singers in the United States on Feb. 6 at 7:30 p.m.
Founded by Dr. Everett McCorvey in 1995, the American Spiritual Ensemble's mission is to keep the soulful, American Negro Spiritual alive. The repertoire of the American Spiritual Ensemble ranges from opera to classic spirituals, jazz and Broadway numbers. The members of the American Spiritual Ensemble are soloists in their own right and have thrilled audiences around the world with their dynamic renditions of numbers highlighting the Black experience.
McCorvey, ASE conductor, is a native of Montgomery, Ala. He received his degrees from the University of Alabama, including a Doctorate of Musical Arts. As a tenor soloist, McCorvey has performed in many esteemed theatres and opera houses across the globe.
Bologna Center Director Laura Howell said, "When I first saw videos of the ASE last year, I knew that this group would be a perfect fit for the Bologna Center. There is true artistry in their music. ASE's members are Tony Award nominees and opera performers from the Metropolitan Opera—they are the real deal."
"It's important for us to know that Spirituals are not just Negro, they are American music," McCorvey says.
Negro Spirituals gave birth to all American music from jazz, gospel, blues and even American musical theater. The ASE's concert in Cleveland will feature music from Gershwin's Porgy and Bess and Elton John's Circle of Life (from The Lion King).
"It's important that the Ensemble maintains and celebrates that music by not mixing it with other forms, like gospel. There's certainly a place for it, but there's a difference. And it's that difference that we want to preserve," adds McCorvey.
Tickets for American Spiritual Ensemble are $35 for Orchestra, $30 for Terrace and $15 for Balcony. Special discounted tickets for educational, church and other groups of 10 or more are available. Tickets are available for purchase online at www.bolognapac.com, the Bologna Ticket Office from 10 a.m. to 5 p.m. Monday-Friday, by calling (662) 846-4626.