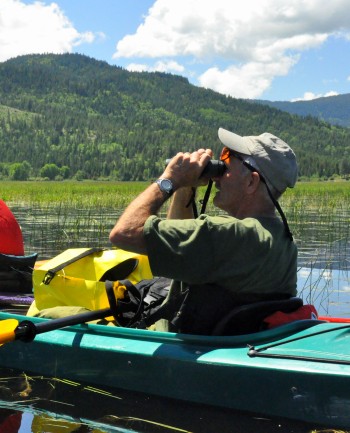 Delta State University's College of Education and Human Sciences is hosting a free "how-to" birding workshop on Feb. 14 from 9 a.m. to noon through the Recreation Leadership Program of the Division of Health Physical Education and Recreation.
Those interested in attending must register in advance by contacting Todd Davis, director of Recreation Leadership, at 662-846-4555 or tdavis@deltastate.edu. Space is limited to 24 participants and no experience or gear is needed. CEUs will be offered (.5 CEUs for $15).
Dan Davis, a certified wildlife biologist and avid birder, will be on hand to introduce and teach the skills needed to recreationally bird, including the use of electronic devices, mobile apps, binoculars, cameras, books and relevant websites. The program will visit nearby Dahomey Wildlife Refuge to call in and spot local and migratory birds.
"One of the most positive, yet underappreciated aspects of recreation in Mississippi, is recreational birding," said Todd. "With the proximity to migration routes for millions of birds and nearly a hundred species traveling through Mississippi each year, recreational birding is an excellent way to get out and witness an unbelievable wonder."
Birding is considered one of the top outlets for passive and moderately active outdoor recreation. According to the U.S. Fish and Wildlife Service, there are currently 51.3 million birders in the United States alone, and this number continues to grow. Additionally, the Outdoor Foundation reports that Americans average 46 outings per viewer and total 1.2 billion bird watching and wildlife viewing outings per year.
"With the right technology, proper education and access to wildlife areas, birding can be inexpensive and fun for the whole family," added Todd.
A certified and retired U.S. Forest Service Wildlife Biologist, Dan Davis has over 40 years of experience in the field of wildlife management. He holds a Bachelor of Science from the University of Idaho in wildlife management and has additional master's level credits in the field of research. He has taught extension classes in Idaho at Lewis Clark State College and the University of Idaho, with a focus on bird identification and management on national forest lands. He has also taught about big game management, plants, amphibians and other wildlife topics.
Dan has collaborated with the Nez Perce Tribe, U.S. Fish and Wildlife Service, Idaho Fish and Game, Department of Lands, U.S. Army Corps of Engineers and numerous environmental NGOs such as the Audubon Society and National Wildlife Federation. He also holds a private pilot and seaplane license and is very knowledgeable in birding applications and technologies. He continues to pursue outdoor recreational activities in all areas of the United States and abroad.