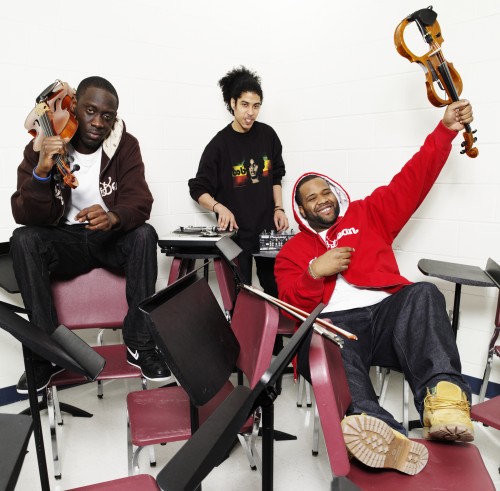 Virtuoso violinists Kev and Wil B, along with DJ TK on the turntables, are going to raise the roof sky-high with their funky fusion of classical, jazz, hip-hop, blues and R&B at the Bologna Performing Arts Center on March 4 at 9:30 and 11:30 a.m. Black violin smashes musical stereotypes and will enthrall lovers of Bach and Beyoncé. The performance has inspired kids from all over North America to get fired up about classical music, proving that their hearts are as big and soulful as their sound. Black Violin is recommended for school groups and families with students in 2nd – 12th grade.
Since starting Black Violin a decade ago, Kev and Wil B have performed an average of 200 shows a year in 49 states and 36 countries. They have traveled as far away as Dubai, Prague and South Africa, while appearing at official NFL celebrations for three Super Bowls and last year's U.S. Open in Forest Hills, New York with Jordin Sparks. Individually and together, Black Violin has collaborated with artists like P. Diddy, Kanye West, 50 Cent, Tom Petty, Aerosmith, Aretha Franklin and The Eagles.
The New York Times noted that "Black Violin works hard, but makes it all look like play. Sometimes they play with the intense seriousness of orchestral soloists; at others they fiddle as if at a hoedown; at still others they strum the violin and viola like guitars."
 Black Violin's Wil B said "We're looking to break out of our own box and grow the brand. We're living proof that people can overcome their obstacles and triumph. This is something new and fresh. We want people to see what we're all about."
 Tickets for the two matinees are $6 each for students and adults. To reserve tickets for your family or school group, please call the BPAC Arts Education Department at 662-846-4844.