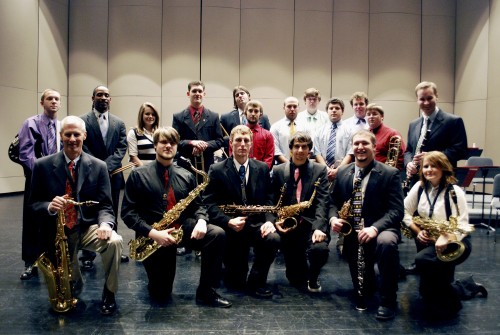 The Delta State Jazz Ensemble will present sounds of the Swing Era at the sixth annual Big Band Bash on Feb. 28 at the Cleveland Country Club. Dinner begins at 6:30 p.m. and entertainment at 7:30 p.m.
This year's Big Band Bash will have a Mardi Gras theme. It will be an evening of music, food, dancing and entertainment that, in past years, has included costume contests, dance-offs and a New-Orleans-style jazz parade.
The Delta State University Jazz Ensemble is a select group of student and community musicians whose great-grandparents may have enjoyed the sounds of Benny Goodman and Glenn Miller in their heyday. The ensemble is directed by Dr. Bret Pimentel.
"It's fun to see college students so excited about this music," said Pimentel. "Once this music was the sound of youthful energy, freedom and fun. It still has those qualities for these musicians, and for the audiences that hear them, whether young or old."
The Big Band Bash is a crucial fundraiser for Delta State's jazz-related activities, and previous funds raised from this event have resulted in the establishment of a new scholarship program for members of the ensemble.
Dr. Paul Hankins, a former director of the ensemble and current interim dean of Delta State's College of Arts and Sciences, feels that this music needs to be preserved, enjoyed and remembered.
"In this part of the country, where there is such a rich musical tradition, it's especially important that we keep the sounds of jazz alive," said Hankins.
Local businessman Rogers Varner is the originator of the event and one of its driving forces. Varner helps organize the event, sell tickets and even plays in the band's saxophone section. He has participated in the Delta State Jazz Ensemble as a community member for a number of years that he politely declines to disclose. He is humble about his skills as a musician, though the other band members—mostly students in professional training as musicians and music educators—value his contribution and welcome him as a member of the group.
"It's an escape for me," said Varner. "I've always loved this music, and it's a treat to get to rehearse and perform with people who feel the same way I do."
In 2011, Varner was awarded the Delta State Music Department's Philanthropy Award for his work on the Big Band Bash.
In addition to the performance by the Jazz Ensemble, there will be small-group performances by local professional musicians including Hankins and Pimentel.
General tickets are $20, and Delta State student tickets are $5. The full 100 percent of ticket proceeds go to the Delta State jazz program as a tax-deductible donation. The Cleveland Country Club will have dinner and drinks available from a special menu prepared for the evening's festivities. Contact Rogers Varner at (662) 846-6636 or Dr. Paul Hankins at (662) 846-4100 for more information or to purchase tickets.