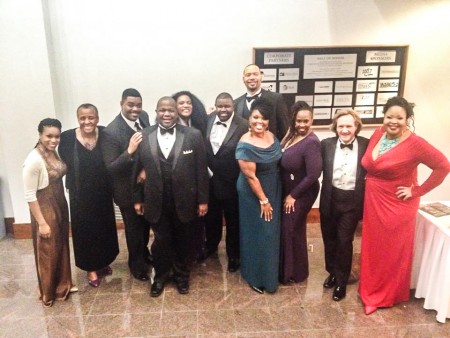 Thursday night, the Bologna Performing Arts Center presented the American Spiritual Ensemble in concert. The group had recently returned from a three-week European tour, and the concert at the Bologna Center was their first performance of their American tour.
"Last night was a triumph," said Dr. James Robison, professor emeritus of history at Delta State University. "You can buy every CD or piece of stereo equipment, iPods and iPads, but there is nothing like what you felt by being in that building last night."
The American Spiritual Ensemble began the evening by performing classic spirituals. Dr. Everett McCorvey, founder and director of the ensemble, explained there are over 6,000 American Negro spirituals —  the work and sorrow songs of the American slave.
Following intermission, the group performed more contemporary and Broadway numbers. Linda Strong of Merigold said, "It was a magnificent performance by some of the most outstanding voices I've heard in a long time."
Beyond presenting first-class performances, audience engagement and educational outreach are important parts of the Bologna Center's mission. Earlier in the day, soprano Karen Slack led a master class for 26 students from Delta State's Department of Music. Following the evening's performance, members of the ensemble entered the lobby to speak with the audience.
Don't miss the next exciting performance at the Bologna Performing Arts Center. On Feb. 27 at 7:30 p.m., the BPAC presents the Women of Ireland, an evening of the finest Celtic music, song and dance. Tickets start at $25. Stop by or call the ticket office at 662-846-4626 for more information, or go online at www.bolognapac.com.