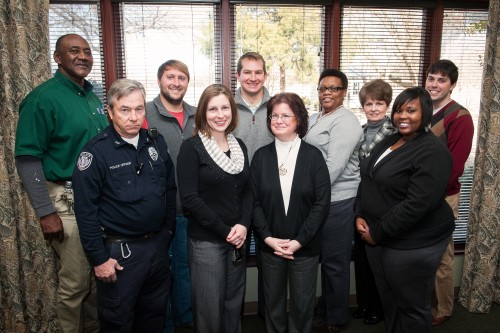 The Staff Council Incentives and Recognition Committee hosted a successful luncheon today to honor the Employee of the Month (EOM) recipients for 2013. The annual event takes place each January in the Simmons Room of the Hugh Ellis Walker Alumni-Foundation House.
The Staff Council of Delta State University takes great pride in recognizing the exceptional service among its staff, and the EOM program continues to see growth thanks to the support of the campus community.
EOM distinction is given to a staff member who has provided service that is considered over and beyond those duties outlined in his or her job description. Nominations are submitted by colleagues on campus.
2013 winners include: Kimberly Cooley, January; Chris Gaines, February; Kirk Mansell, March; Dianne Serio, April; Michael Kemp, May; Lee Rowland, June; Donald Bradshaw, July; Justin Chandler, August; Gloria Hudson, September; Laura Walker, October; De'Andrea Eason, November; and Patsy Burchfield, December.
Each winner receives a plaque; monetary award; Wal-Mart gift card from the Student Government Association; an engraved insulated coffee mug; a free parking decal courtesy of the Campus Police Department; a box of treats from The Sweetery; a parking spot of their choice; two Okra gift cards (one from Athletics and one from a private donor); marquee announcement; and website recognition.
Dr. James Robinson, a semi-retired professor in the history department, also sends flowers to all the ladies who receive EOM recognition.
The program has developed greatly for more than a decade thanks to ongoing financial donations from Robinson. Through his support, the luncheon is made possible each year.
Robinson, who graduated from Delta State in 1966, never stops brainstorming ways to give back to his beloved university.
"The program was already in place when I first donated, but it was something I wanted to contribute to as a way to say thanks to all the wonderful people we have at Delta State," said Robinson. "I'm happy to see how much it's grown and that the staff continue to be recognized.
"This shows that Delta State truly is a family."
Also honored at this year's luncheon was Bert Herbison, chair of the Incentives and Recognition Committee for the past nine years. Herbison has worked at the university for 24 years and will be retiring at the end of the year.
"The Employee of the Month program has been my 'baby' while at Delta State," said Herbison. "It's bittersweet attending my last luncheon, and I'm going to have a hard time giving it up when I retire."
Herbison said working with Robinson to develop the program has been a true privilege.
"Words can't describe what an honor it has been to work with a man who is so hardworking, caring and selfless when it comes to others — staff in particular," said Herbison. "He constantly is looking for ways that we can honor our staff."
Robinson's support has also made other programs from the Incentives and Recognition Committee possible — such as the Smile On You award, which is a $25 gift certificate to a local restaurant that a staff member unexpectedly receives in the mail, and the "Take A Break" gift card from Aramark that can be used on campus at one of their facilities for a coffee, smoothie or snack. Quarterly birthday parties are also held for staff along with mailed birthday cards.
In October of 2013, Robin Boyles, Staff Council chair, and fellow council members attended the Mississippi Association of Staff Council Organizations meetings in Hattiesburg. Boyles quickly learned Delta State's EOM program stands superior against the other Mississippi institutions in the Institutions of Higher Learning system.
"Meeting with other Staff Council officers affirmed for me that our Staff Council here at Delta State is an active and integral part of our campus," said Boyles. "We clearly have the most structured and comprehensive Employee of the Month program in Mississippi and that is primarily due to the contributions of Dr. James Robinson and the dedication of Bert Herbison and the Incentives and Recognition committee."
For an archived list of previous EOM winners, visit www.deltastate.edu/about-dsu/administration/staff-council/staff-council-employee-of-the-month/employee-of-the-month-archives/.
 
Delta State's Staff Council serves as a liaison between the administration and the staff to provide a formal process for staff to discuss issues involving university policies and procedures and to forward ideas, recommendations and opinions to the president.