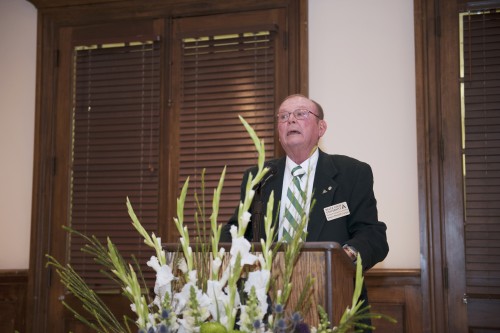 During President William N. LaForge's inauguration week in 2013, Delta State retirees got together to show support for their beloved green and white.
A letter was sent in early November to all retired faculty and staff announcing the $5,000 Delta State Retiree Matching Gift from the Delta Regional Foundation. In less than two months, donors impressively met the match.
The $5,000 was successfully matched on Dec. 20, 2013. This grant matched every dollar given to Delta State by retirees on a 1:1 basis.
Registrar Emeritus James Donald Cooper announced the grant at the Faculty and Staff Retirees Breakfast held on Oct. 28. Dr. Rose Strahan was the first individual to take advantage of the program.
"Anytime there's an opportunity for a matching grant at Delta State, I think people should take advantage of it," said Strahan. "I felt for a while that I needed to give a little to my personal scholarship fund, and this seemed like the perfect time."
Cooper and Delta State alumnus Charlie McGuffee created the Delta Regional Foundation and have provided significant funding to the university and the Delta State University Foundation.
The goal of the platform was to encourage increased levels of giving among the institution's retirees. Each gift and corresponding matching gift will go to the designation selected by the retiree. This was a great way to double the support in the donor's area of interest.
For more information about the Foundation or giving opportunities, contact Gary Bouse at 662-846-4709, gbouse@deltastate.edu or visit www.deltastategiving.org.