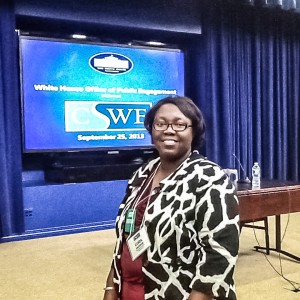 Late September of 2013, Cora Jackson, instructor of social work at Delta State, had the opportunity to visit the White House for a briefing titled "Addressing the Social Determinants of Health in a New Era: The Role of Social Work Education."
The purpose of the training, organized by the Council on Social Work Education (CSWE), was to explore social work's role in providing education and exploring resources to address social factors that negatively impact vulnerable populations throughout the United States — in relation to health disparities, polices and available resources.
"The knowledge I gained was invaluable because it directly related to the Social Welfare Policies and Services class I currently teach at Delta State," said Jackson. "For me, it solidified the need to continue to teach students how to be effective advocates for those populations who are often overlooked in our society, and that there are resources available if we are diligent in obtaining assistance for those social workers serve."
The training hosted over 225 social work practitioners and educators. The selection process was rigorous as all participants required background checks through the White House. Jackson said she was the only one from Mississippi in attendance, and she was humbled to be in the presence of many prominent social work pioneers that she had previously heard of or read about.
The program featured Administration officials from the White House, U.S. Department of Health and Human Services and other federal agencies. Participants were provided question and answer periods throughout the briefing to engage with Administration officials on training issues.
"This training was significant to me for several reasons. This was an opportunity to get cutting-edge information first hand, and it is vital that all social work educators stay abreast of the issues that impact their profession.
"I was able to expand my knowledge on advocacy, policy and social justice that I can use in the classroom," she added. "This training provided substantial information about the current social functioning of vulnerable populations served by my profession, as well as policies and best practices that address these social ills all over the United States."
The experience was also Jackson's first visit to the nation's capital, making the program even more unique for the instructor.
"Just to behold the building with my own eyes was amazing, but to be able to attend a professional training like this is something that is nearly unheard of where I am from."
CSWE is a nonprofit national association representing more than 2,500 individual members, as well as graduate and undergraduate programs of professional social work education.
Founded in 1952, this partnership of educational and professional institutions, social welfare agencies, and private citizens is recognized by the Council for Higher Education Accreditation as the sole accrediting agency for social work education in this country.
For more information on the Department of Social Work at Delta State, visit www.deltastate.edu/college-of-arts-and-sciences/social-work.