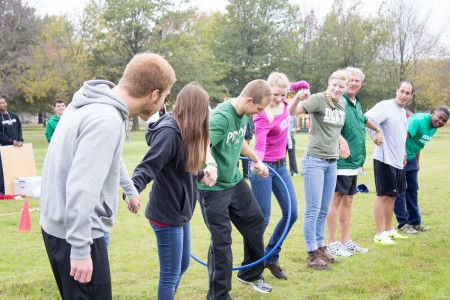 The Healthy Campus/Community Initiative, Delta State University's collaborative effort of creating a healthier population in the Delta region, recently received good news about expanding its model in Coahoma County schools.
HCCI, developed in partnership with and supported by the Blue Cross & Blue Shield of Mississippi Foundation for five years, recently announced a $502,000 grant from the foundation for programming to expand to the Clarksdale community through the Coahoma County Higher Education Center (CCHEC), a Delta State satellite campus.
 
Dr. Leslie Griffin, Dean of the College of Education and Human Sciences, said the successful model at the institution is now self-sustaining after the initial support from Blue Cross & Blue Shield.
"Our campus was originally asked to establish a health and wellness model on campus and be the flagship university that was leading the way to a healthier Mississippi," said Griffin.
 
"Through support from the Blue Cross & Blue Shield of Mississippi Foundation, we were able to evolve that culture over a five-year period and monitor outcomes to determine 'what worked,'" she added. "Based on these successful outcomes, the foundation invited other institutions in the state to replicate similar programs.
 
"The whole goal is to develop a health and wellness culture that sustains itself, and the leadership at Delta State has established the resources to ensure this sustainability."
 
Thanks to the new grant, the CCHEC will be leading the way by offering classes and events that encourage personal development and promote a higher quality of life for all people in the Mississippi Delta.
The center will help infuse health and wellness curriculum and practices throughout the Clarksdale Municipal School District and Coahoma County School District. Citizens of Clarksdale, including P-12 students, will benefit from programs that educate them about health practices and resources, engage them in daily fitness and nutrition activities and require them to make a conscious investment and response to these opportunities. As a result, it is anticipated that individuals living in the area will adopt lifelong healthy practices.
Griffin added to make this program a success, it would take great commitment from faculty at Delta State and qualified leaders at CCHEC. Jen Waller, director of the CCHEC, will provide guidance and support as well.
Delta State President William N. LaForge said the expansion would bring another program of quality substance to the university's satellite site.
"The program itself is also significant to our outreach in the Delta, a constant effort of ours," said LaForge. "This is crucial to education in the area and the futures of the children."
Professional development training will be offered to area teachers, along with fitness, leadership and nutrition activities provided to students. Lesson plans aligned with Common Core and the Center for Disease Control's Coordinated School Health Program will be developed and disseminated throughout district schools.
 
The Outdoor Recreation Program will engage youth with similar programs established in Bolivar County, such as Saturdays in the Park, Fit-Tastic Fridays, mini-summer camps, a walking promotional program and a mobile nutrition lab.
 
"Delta State has experienced success in establishing a culture of health and wellness on its campus and in the surrounding Cleveland community," said Griffin. "Through its Coahoma County Higher Education Center, it has the potential to extend this culture to an area with intense need in terms of health and wellness awareness, as well as great opportunity.
 
"Further, the new mayor of Clarksdale, Bill Luckett, enthusiastically embraces the concept, as does the County Administrator, Daniel Vassel. Support from the Blue Cross & Blue Shield of Mississippi Foundation should enable this community to significantly and positively impact its health and wellness mindset and practices."
Dr. Charles A. McAdams, provost and vice president for Academic Affairs, said working in Coahoma County aligns with Delta State's long-running presence in the area.
"I am pleased that BCBS has recognized Delta State's critical role in improving the lives of citizens in the Delta," said McAdams. "Improving the quality of life includes not only a strong economy, but also promoting a healthy lifestyle. Delta State has a strong historical commitment to Coahoma County and this program will enable us to continue the good work we are doing for Coahoma County residents at our Coahoma County Higher Education Center."
For more information on HCCI's impact, visit www.deltastate.edu/college-of-education/healthy-campus-community-initiative.