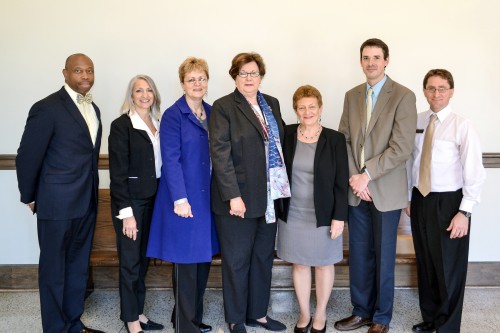 Delta State co-sponsored a regional engagement session with the U.S. Department of Education (DOE) that featured Assistant Secretary for Vocational and Adult Education Brenda Dann-Messier. The event drew approximately 60 participants from Alabama, Arkansas, Louisiana, Mississippi and Tennessee.
Attendees were welcomed in the State Room of the H.L. Nowell Student Union by Dann-Messier, Delta State's Associate Vice President of Finance and Administration Dr.  Myrtis Tabb and U.S. Department of Labor Regional Director Gene Caso.
The session began with a survey and regional responder panel with representatives from the University of Missisippi, Coahoma Community College and Phillips County Chamber of Commerce, followed by a discussion led by Director of the Division of Adult Education and Literacy of the DOE Cheryl Keenan. Following a working lunch and small group discussions, Dann-Messier and Delta State's Dean of Graduate and Continuing Studies and Research Dr. Beverly Moon made closing remarks.
This is one of five regional engagement sessions to gather feedback that will be used to develop the U.S. response to an Organization for Economic Cooperation and Development report that highlighted the large number of U.S. adults with very low basic skills.
For more information about the sessions, please visit www.timetoreskill.org. To find out what Delta State has to offer you, please visit www.deltastate.edu.