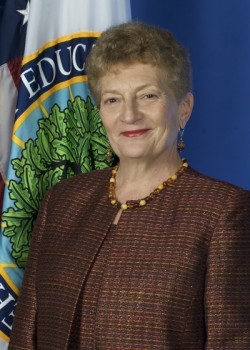 Brenda Dann-Messier, assistant secretary for vocational and adult education for the U.S. Department of Education, will host an engagement session at Delta State on Wednesday to gather input for developing a national plan to improve the preparedness of low-skilled U.S. adults.
The event will begin at 9:30 a.m., Wednesday, January 15, in the State Room inside the H.L. Nowell Student Union. Those planning to attend are asked to contact Marilyn Read, coordinator of Continuing Education at Delta State, before noon Tuesday. Read can be reached at 662-846-4874.
Dann-Messier said she was pleased to be visiting campus and work on developing a national perspective.
"It's imperative that we do dramatically better in order to unlock the full potential of tens of millions of low-skilled Americans and to prepare them to compete — and our nation to lead — in the global marketplace,"  she said.
Dr. Beverly Moon, dean of Graduate & Continuing Studies and Research, is also thrilled to host the distinguished presenter.
"We at Delta State are excited to be able to host this event, the only rural one in the nation, which will engage people from across all sectors to discuss the need to reskill our adult population," said Moon. "Politicians, educators, business folks, non-profit administrators and many others — all of us have a role in strategizing how we can better educate those who need it and better prepare a workforce for everyone's needs." 

This is one of five regional engagement sessions to gather feedback that will be used to develop the U.S. response to an Organization for Economic Cooperation and Development report that highlighted the large number of U.S. adults with very low basic skills. Delta State's session will also feature a regional responder panel.
Entitled, "Time for the U.S. to Reskill? What the Survey of Adult Skills Says," the report is the first in a decade that quantifies the population of low-skilled adults, identifying some 36 million adults ages 16-65 whose skills in reading, math and problem-solving in a technology-rich environment fall far short of what is needed to succeed in the 21st century workforce.
The Department of Education is looking for the country's best ideas and most creative thinking from educators and policymakers, individuals, business, industry and labor leaders, researchers and data experts, and practitioners in adult education to weigh in on best strategies for improving foundation skills and workforce readiness. The national plan is expected to be released in this spring.
As part of the engagement process, the DOE has made available a toolkit for communities and organizations to host their own engagement sessions and contribute their ideas to the development of the plan.
The first session was held late 2013 in Philadelphia, the second session in Chicago and the final one will take place in the greater Boston, Mass. area. For more information about the sessions, please visit www.timetoreskill.org.
As the first assistant secretary who is also an adult educator, Dann-Messier leads the Department's efforts in adult education and career and technical education, as well as efforts supporting community colleges and correctional education. She runs the Office of Vocational and Adult Education, which oversees the administration of seven grant programs in these areas, totaling approximately $1.7 billion annually.
Delta State's Department of Continuing Education offers a variety of educational opportunities including educational travel based courses, credit courses, workshops, recreational courses and personal enrichment classes for people of all ages. To view courses offered by Continuing Education, please visit www.deltastate.edu.